REOTRON SMP Power Supplies offer Stable DC Output and More for Water Treatment Facilities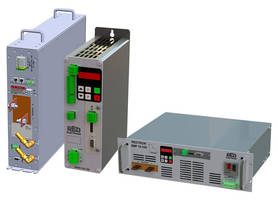 INDIANAPOLIS – REO-USA recently introduced an adaptable new product featuring next generation technology that makes it an ideal, cost effective solution for water treatment facilities in the United States and North America. The REOTRON SMP series DC power supply can be used anywhere a steady DC supply is required.



"Our Switch Mode Power Supply units are highly robust and durable power devices, compared to other power supplies that are designed more or less for a laboratory setting. The units are exceptionally versatile, built to succeed and work for a minimum MTBF of 10+ years," said Rick Jones, Sr. Director of Engineering for REO-USA.



"For example, our unit is very easy to control with an extremely high level of accuracy, regardless of mains fluctuations or load conditions. The REOTRON SMP can also be integrated with industrial networks such as Ethernet, EtherCAT, Profibus or DeviceNET. All of these attributes are available options that make it particularly suitable for many water treatment applications."



REOTRON SMP power supplies are primarily devices with galvanic separation from the input to the output. They can be utilized as voltage, current or power regulators. Since they can be monitored from one central control unit, facilities can experience sizeable cost savings - system maintenance can be reduced, in some cases as significantly from every six weeks to as long as six months.



Jones indicated the versatility of REOTRON SMP makes it an interesting consideration for facilities in need of an affordable and reliable power supply.



"Given the requirement for a steady DC supply, some applications include electrochlorination, in which brine solution is energized and creates chlorine on site. This is much safer than shipping and storing the chlorine, which is widely used in water purification.



"Another application is the electrocoagulation system. This process is used in industries that generate wastewater, such as mining. Before being reintroduced into the environment, the water must be rid of waste and other particulates. This is accomplished by running a current through polluted water, causing the solids in the water to coalesce and making it possible to filter out the pollutants."



The REOTRON SMP power supply achieves a very high efficiency rating since output can be manually adjusted up or down, and match the current required to keep any or all units operating at optimal protective levels. The power factor of 0.95 is very good compared to industry standards 0.9 for units of this size.



Another reason for its high efficiency is the design factor. The devices are air or water-cooled and have a small footprint, with a 19" rackmount chassis or a compact panel-mount chassis available. They can be delivered as an installation-ready control cabinet, or as a tabletop unit. A wide selection of SMP units is available including DC output, phase angle control of external rectifier pulses, single and three-phase AC, and two-stage AC output. Higher currents and voltages can be arranged upon request.



Visit www.-reo-usa.com or call 317-899-1395 to speak with a representative for more information.



Related