Rental Program offers non-ferrous metal recovery equipment.
Press Release Summary: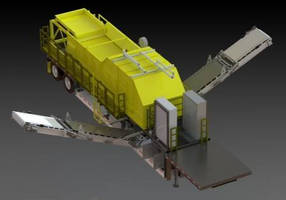 Mobile series rental program enables mobile NES (Eddy Current Separator) and ISS (Induction Sorting System) to be secured for as little as 3 months on rental or rent-to-own basis. Able to be designed to accommodate customers' needs, rental program includes trained service technician on site for initial setup and operator training. Available units include ISS all metal sensor sorter in several configurations and NES non-ferrous recovery solution in configurations for 3/8–8 in. material sizes.
---
Original Press Release:

Steinert Announces New Mobile Series Rental Program



WALTON, KY – Steinert US, the leading supplier of separation equipment for the material recovery and recycling market, announces a new mobile series rental program.



Steinert offers mobile NES (Eddy Current Separator) and ISS (Induction Sorting System) rental systems. Units are competitively priced on a monthly or quarterly rental or rent-to-own basis and the rental fee includes a trained service technician on site for initial setup and operator training.



Steinert will design a rental program to suit the customer's needs. Units can be secured for as little as three months on either a rental or rent-to-own basis with an attractive buyout option.



Steinert mobile systems immediately begin producing product that pays the rent and leaves the customer with a nice profit, every month.



Designed specifically for customers who want to take their non-ferrous metal recovery on the road, the Steinert mobile series allows for recovery anywhere a power source and fairly level ground can be found.



Steinert mobile units are perfect for landfill mining, stockpile reduction/management, and many other specialized projects.



Available Units:



ISS Induction Separation System

All metal sensor sorter. Offered in several configurations to suit multiple applications.



Key Points

> All weather operation

> Built in compressed air dryer & filtering system

> Optional on board compressed air supply

> Full capability interface control

> Wireless remote maintenance ready

> No concrete pad required



NES Eddy Current Separator

Affordable non-ferrous recovery solution offered in multiple configurations for material sizes from 3/8" to 8".

Key Points

> On board utility compressor

> User-friendly operation

> No special transport permit required

> Fast on-site set up (generally less than 10 minutes)

> No concrete pad required



Interested customers should contact Steinert today at (800) 595-4014 or sales@steinertus.com for more information or to reserve a rental unit.



About STEINERT

Founded in 1889, Steinert has long been recognized as the leader in magnetic separation technology. Over the last decade, Steinert has also become a leader in sensor sorting applications. Steinert provides electromagnetic drums, eddy current separators, and sorting systems based on induction, X-Ray, and near infrared. Today, Steinert is the only full range industry supplier based on product range, expertise, and customer service. Steinert provides full-service sales, support, and service across the globe. Steinert is headquartered Cologne, Germany with offices in the United States, Brazil, Australia, and Japan.



About STEINERT US, Inc.

Established in the United States in 2003, Steinert US is the North American headquarters of Steinert Elektromagnetbau GmbH; the global leader in separation technology solutions for the scrap, waste, recycling, and mining industries. The company manufactures a complete line of magnetic and sensor-sorting equipment designed to separate and recover a wide range of materials. Driven by innovation and focused on satisfaction, Steinert combines over 120 years of superior technical expertise with world-class customer service to deliver the most reliable machinery in the industry.



For Further Information



Contact USA

Steinert US

Nicolle Williams

285 Shorland Drive

Walton, KY 41094

USA

+1 (800) 595-4014 x109

williams@steinertus.com

www.steinertus.com

More from Software