Renishaw Announces Additional Exhibits at MACH 2012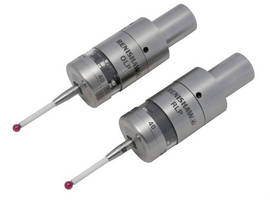 14 March 2012 - Ranihaw, the global engineering technologies company, is announcing further products to be shown at MACH 2012, that will help improve machine efficiency, increase throughput and reduce process waste. At the UK's leading manufacturing technologies exhibition, that takes place in Birmingham, UK, from 16th to 20th April 2012, in addition to new gauging and additive manufacturing systems, the company will also show a range of probe systems and software for machine tools, plus its latest calibration products to maintain machine performance.

In hall 5, stand 5640, visitors to MACH 2012 will be able to see Renishaw's new XR20-W rotary axis calibration system, which works with the market leading XL-80 laser interferometer system to allow the measurement of rotary axis positional accuracy to within 1 arc second. Totally wireless operation and modular mounting systems ensure suitability for a wide range of machines. The XR20-W supersedes the Renishaw RX10 which established benchmarks for accuracy, repeatability and automatic operation.

Also available as a cost-effective solution for checking the alignment and positioning performance of rotary axes, AxiSet(TM) Check-Up takes just a few minutes to identify and report on poor machine alignments and geometry. Users of five-axis machining centres and multi-tasking mill-turn machines can therefore quickly determine problems that can cause extended process setting times, as well as non-conforming parts.

Visitors to MACH 2012 will also see Renishaw's QC20-W wireless telescoping ballbar, which is the first calibration tool to allow testing in 3 orthogonal planes through a single reference point. A single, simple hardware set up means quicker testing and the ability to produce a representative volumetric measurement of positioning accuracy.

Renishaw's extensive range of contact and non-contact probe systems provide an innovative solution to improve the efficiency of CNC machine tools. Touch probes can be used for part setting, to measure features in-cycle for adaptive machining, and verify finished component dimensions, whilst contact and laser-based systems can be used for tool setting and breakage detection.

For companies who want to make part set-up and inspection on turning centres accurate, simple and reliable, Renishaw's RLP40 and OLP40 lathe inspection probes offer a choice of radio or optical signal transmission technologies. Measuring just 40 mm in diameter and 58.3 mm long, these compact touch probes provide unidirectional repeatability of 1µm and can be used to reduce set-up times, scrap, and fixture costs, while improving process control.

More from Agricultural & Farming Products