Renesas Presents RX65N Series Microcontrollers for ROS 2 Communication
Press Release Summary: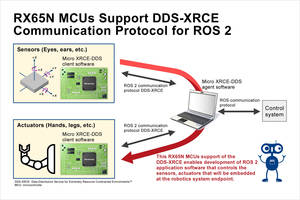 The RX65N Series Microcontrollers supports DDS-XRCE framework that enables software to control sensors and actuators embedded robotic system endpoints like welfare, safe guard, reception, cleaning and robotics endpoints. The RX65N MCUs are implemented on eProsima Micro XRCE-DDS client consisting of two RX65N MCU-based boards. The units support DDS-XRCE protocol standards.
---
Original Press Release:
Renesas Electronics RX65N Microcontrollers Support DDS-XRCE Communication Protocol for ROS 2
Accelerates Robotics Development Support for Upcoming ROS 2 Communication Protocol and Contributes to Further Growth of the Robotics Market
TOKYO, Japan, October 29, 2018― Renesas Electronics Corporation (TSE: 6723), a premier supplier of advanced semiconductor solutions, is accelerating the development of robotics systems to deliver intelligence at the industrial endpoint by extending the features of Renesas' high-performance, 32-bit RX65N Series of microcontrollers (MCUs) to support the DDS-XRCE (Data-Distribution Service for Extremely Resource Constrained Environments™), one of the upcoming protocol standards for ROS 2 communication. Renesas' support of the DDS-XRCE framework enables the development of software that controls the sensors and actuators that will be embedded at robotics system endpoints, such as welfare, safe guard, reception, cleaning, household robots, and other robotics endpoints.
The Robot Operating System (ROS) is a key framework that provides libraries and tools that enable developers to bring new innovations to the robotics community. There has been new interest in extending ROS access to embedded MCUs, which accelerates the development of service robots. The development of the ROS 2 addresses these needs.
Renesas implemented an eProsima Micro XRCE-DDS client on an RX65N MCU. Employing two RX65N MCU-based boards – one as a sensor operating as the eyes and nose of a robot, and one as an actuator operating as the robot's hands and legs – Renesas has verified the successful control and communication of these devices using the DDS-XRCE. All software used in this demonstration will be open sourced and be available in Q4 2018.
"We are excited to see Renesas supporting DDS-XRCE, which extends ROS 2 to allow its use in embedded microcontrollers. Their work will provide additional momentum to expand the ROS community even further," said Brian Gerkey, Chief Executive Officer, Open Robotics.
"We are pleased that Renesas has selected eProsima as the primary DDS-XRCE solution. We are leading networking middleware experts, and collaboration with the leading MCU company accelerates deployment of ROS 2 into embedded microcontrollers," Jaime Martin Losa, Chief Executive Officer, eProsima.
Renesas is a gold sponsor of ROSCon JP 2018, which was held in Tokyo on September 14th, 2018 and a bronze sponsor of ROSCon 2018 held in Madrid on September 29th and 30th, 2018, and proactively supports ROS community.
About Renesas Electronics Corporation
Renesas Electronics Corporation (TSE: 6723) delivers trusted embedded design innovation with complete semiconductor solutions that enable billions of connected, intelligent devices to enhance the way people work and live—securely and safely. A global leader in microcontrollers, analog, power, SoC products and integrated platforms, Renesas provides the expertise, quality, and comprehensive solutions for a broad range of Automotive, Industrial, Home Electronics, Office Automation and Information Communicatioxn Technology applications to help shape a limitless future. Learn more at renesas.com.
Media Contacts
Renesas Electronics Corporation
Jessica Kerr
+408-761-8135
jessica.kerr@porternovelli.com
More from Material Handling & Storage