Removable and Retractable Bollards Offer Versatility While Saving Time and Money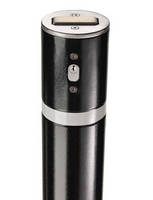 Property managers, traffic enforcement officers, security guards and city workers all know that from time to time, the traffic and safety needs of a property change.

When change is needed, it often must happen quickly. Diverting traffic, allowing vehicle access or identifying roadway definition needs to be clearly communicated to drivers. Builders across North America find that the series 7900/8900 removable bollard product line and the series 8400 retractable bollard product line from Reliance Foundry make this communication easier and safer for everyone involved.

Bollards are metal posts that serve a wide variety of purposes in residential & commercial facilities, and on public roadways, parks & properties. Reliance Foundry is one of the leading providers of bollards, with decorative elements and accessories that make them not only functionally important, but also appealing in design.

The series 7900/8900 and the series 8400 bollard product lines are quickly becoming critical components for designers who must take into consideration perimeter definition changes or fast-changing vehicular or pedestrian access areas.

Perimeter Changes:

Series 7900/8900 removable bollards are strong; providing excellent viual safety and deterrance when in place, yet are completely removable with interchangeable accessories. This makes them ideal for areas where the configuration of bollards needs to be occasionally changed, for example during special events or to respond traffic pattern changes.

R-7900 style removable bollards are produced from carbon steel, and the R-8900 style removable bollards are producted from stainless steel. Designers / builders can choose from two different in-ground receiver types: receivers with lids, or removable receivers with chain fastenings. Installing receivers in the different bollard configurations that are needed around a perimeter makes it simple and cost-efficient to move bollards from receiver to receiver to reconfigure traffic patterns as needed.

With the nationwide increase in bicycle riders, Reliance Foundry has expanded this product line to include removable bike parking bollards, making them more versatile than ever.

Quick Access:

Series 8400 retractable bollards are most commonly used in driveways or at entry points where passive security bollards are needed most of the time, but need to be cleared to allow delivery, maintenance or emergency vehicle access.

Retractable bollards are sometimes referred to as collapsable, pop-up or telescopic bollards, they lower completely into the ground, providing a flush surface, while also providing security and safety when in their upright position.

R-8400 style retractable bollard product line also includes complimentary fixed and removable bollards, enabling designers to match both the vehicle entry point (retractable/removable) bollards and decorative fixed bollards used for surrounding landscaping or protection. This makes for a cohesive design and gives visual appeal to the property.

If needed, all of Reliance's bollards can include reflective strips, making them easier to spot at night, reducing accidental damage occurrence.


More from Architectural & Civil Engineering Products