Remote Terminal Units feature ladder logic capability.
Press Release Summary: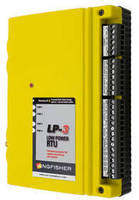 Opening up high-tech communications and SCADA to remote locations, Kingfisher LP-2 and LP-3 are each packaged in 2-part plastic enclosure that houses electronics and communication interfaces. Model LP-3 adds analog output and second network port option, which supports cellular and PSTN modems and UHF radios. With communication, scanning, and sleeping modes, RTUs make solar power feasible. Applications include environmental monitoring, gas metering, power metering, and data logging.
---
Original Press Release:

Semaphore Introduces Upgrades to Kingfisher RTU Low Power Product Line



The updated low-power Semaphore Kingfisher LP-3. The LP-3 cost effectively opens up the world of high-tech communications and SCADA functionality to practically all remote locations.

NASHUA, NH--( March 12, 2009) - Semaphore, a CSE Global company, announces first shipments of updated, low-power Kingfisher SCADA system RTU products. The Kingfisher LP-2 and LP-3 are fully compatible with the LP-1 model, which they replace.

The LP-2 and LP-3 cost effectively open up the world of high-tech communications and SCADA (supervisory control and data acquisition) functionality to practically all remote locations. The products suit a wide range of applications that include agriculture operations, environmental monitoring, gas metering, power metering and data logging. They're intelligent, easy-to-use, and feature ladder logic capability with very flexible I/O and communication ports. Very low power consumption is achieved using three modes -- communication, scanning and sleeping -- and makes solar power feasible.

Each RTU is packaged in a two-part, rugged plastic enclosure that houses the electronics and communication interfaces. The LP-3 adds an analog output and a second, network port option which supports cellular and PSTN modems and UHF radios.

LP-2 / LP-3 Low Power RTUs are compatible with the entire family of Kingfisher RTU products and are configured using the same Toolbox software. The LP-2 and LP-3 are further compatible with practically any other SCADA system through the use of a broad variety of communications protocols.

In addition to the LP-2 and LP-3, the contemporary Kingfisher product line includes the Kingfisher Plus and G30 RTU models as well as a full line of accessories and software tools for program development and support. The RTU products provide many advanced features for SCADA system solutions, including redundant configurations, intelligent I/O, and open programming that is compliant with IEC 61131-3 and IEC 61499.

Kingfisher Plus is an advanced, modular RTU that offers expansion up to 1000 I/O points. The G30 is a compact RTU that extends the full capabilities of Semaphore's Kingfisher Plus+ product line to small SCADA system applications requiring up to 32 I/O points. Kingfisher RTU systems are well suited to large, demanding measurement and control applications.

Semaphore's RTU products are ideal for a broad range of remote monitoring and control applications in the broadcast/telecom, infrastructure management, oil & gas, power, transportation and water/wastewater industries. For more information about Semaphore solutions, visit www.cse-semaphore.com, or contact Semaphore at 15B Charron Avenue, Nashua, NH 03063, 603-577-3803.

About Semaphore

Established in 2006, Semaphore was the result of a merger of two CSE Global companies, RTUnet, of Australia, and TechnoTrade SA, of Belgium. For over 20 years, these companies have provided leading solutions for telemetry, automation, and remote monitoring and have an installed base of more than 70,000 devices. For more information, visit www.cse-semaphore.com.

Semaphore is a wholly owned subsidiary of CSE-Global Limited (CSE), a Singapore-based, industrial integration, manufacturing and distribution group with locations in 20 countries. CSE employs more than 1,000 people worldwide, with over 85% representing its design, engineering, and project management capability and experience. For more information, visit www.cse-global.com.

Contact:

Kevin L. Finnan

CSE-Semaphore

860-618-0293

kevinf@cse-semaphore.com

More from Computer Hardware & Peripherals