Remote Terminal Unit suits utility industry applications.
Press Release Summary: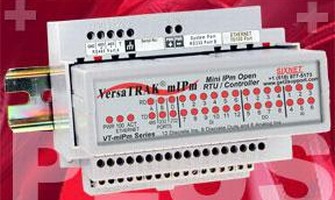 Mini-VersaTRAK mIPm PLUS RTU provides Ethernet, up to 4 serial ports, and mix of 26 discrete and analog I/O. In addition to pre-loaded software for AGA gas flow calculations and DNP-3 time stamped communications, unit comes with open-source Linux and IPm firmware for automation, control, and DAQ. RTU incorporates 32-bit industrial PowerPC as well as 64 Mb flash disk and 32 Mb fast dynamic memory. It also offers hot swap capability and is rated for hazardous locations.
---
Original Press Release:

Mini-VersaTRAK mIPm PLUS - the Ultimate Truly Open Enhanced RTU for Utility Industry Applications



SIXNET announces its latest addition to their IPm product line, the Mini-VersaTRAK mIPm PLUS RTU. The mIPm+ (which stands for mini-IPm PLUS) is a compact unit with Ethernet, up to 4 serial ports and a built-in mix of 26 discrete and analog I/O. Like all of SIXNET's IPm Controllers and RTUs it is pre-loaded with open-source Linux and the IPm firmware which offers many advanced automation, control and data acquisition capabilities.

In addition to all of these standard features, this special edition mIPm+ includes an abundance of memory and pre-loaded software for AGA gas flow calculations and DNP-3 time stamped communications with the needs of the utility industries in mind.

Inside the mIPm+, there is 64 Mb of flash disk and 32 Mb of fast dynamic memory, along with a 32 bit industrial PowerPC. The mIPm+ also offers a unique hot swap capability which minimizes downtime and makes it easier to keep a system running smoothly. The mIPm+ is UL/CSA/CE rated for -40 to +70°C operation, Class 1, Div. 2 (Zone 2) hazardous locations and marine/offshore applications.

Steve Schoenberg, CEO, states, "The mIPm+ is a complete RTU system that fits in the palm of your hand - the utility industries' dream come true. It includes all of our powerful firmware, loaded with industrial automation features that are ready to use right out of the box. Plus, the open-source Linux makes it truly open and allows for ultimate flexibility. The new inclusions of AGA and DNP-3 make mIPm+ the ideal choice, in a compact footprint. Simply stated, it will make your job easier."

The mIPm+ can be programmed using any mix of the ISaGRAF IEC61131-3 languages (ladder logic, sequential function chart, etc.), high-level C/C++ and more. OEMs can even add their own applications, making the mIPm the perfect OEM product platform. It also offers many advanced features that do not require any programming. For example, with the supplied SIXNET I/O Tool Kit software users can configure datalogging and I/O transfer routines to occur periodically or on an event such as an alarm. This configuration software also allows users to import/export tag definitions, load custom programs, perform diagnostics and much more.

New in the mIPm+, additional memory capacity has allowed for inclusion of bundled software applications, without affecting performance, at no extra cost. The AGA gas flow calculations include AGA-3 (orifice plate), AGA-7 (turbine meter), AGA-8 (gas density), Accelabar from Veris and comply with the Chinese SY/6143-2004 standard. The addition of DNP-3 communications, the utility industry standard for time stamping events and verifying occurrence of required actions, provides a fully featured DNP-3 slave that is included to connect to any compliant DNP-3 master over a serial, wireless, or Ethernet link. Both applications software packages are easily configurable through the SIXNET I/O Tool Kit and run seamlessly with all other SIXNET IPm applications including ISaGRAF, SIXNET's Sixlog, and ALL IPm I/O drivers.

Product graphics and additional information available at: www.sixnetio.com/html_files/press_releases/press.htm

More from Fluid & Gas Flow Equipment