Remote Terminal Unit offers expanded Ethernet options.
Press Release Summary: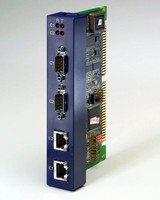 Bristol® ControlWave® Micro Hybrid RTU features 2 Ethernet ports that enable users to implement segmented networks without external routers. This functionality is provided in Dual Port Ethernet CPU and I/O Expansion CPUs that allow separation of host communications from expansion I/O communications. It results in dedicated connectivity to expanded/remote I/O installations using speed of Ethernet backbone, maximizing speed and bandwidth available to Control I/O.
---
Original Press Release:

Emerson Expands Ethernet I/O of Bristol ControlWave Micro Hybrid RTU to Support Larger Applications



Two Ethernet ports enable users to implement segmented networks without external routers

WATERTOWN, CONN (April 2, 2007) -- Emerson Process Management announces Ethernet I/O expansion for the Bristol® ControlWave® Micro Hybrid RTU. The expanded Micro RTU now supports larger applications with the new dual Ethernet ports that provide network segmentation without the need for external routers.

The functionality is provided in new Dual Port Ethernet CPU and I/O Expansion CPUs that allow separation of host communications from expansion I/O communications. The advantage of this configuration is dedicated connectivity to expanded/remote I/O installations using the speed of an Ethernet backbone, maximizing the speed and bandwidth available to Control I/O.

Based on worldwide industry standards for programming and communications, the Bristol ControlWave Micro Hybrid /RTU is a flexible standards-based controller offering exceptional price/performance value for all remote measurement, control, and SCADA applications of the energy, water, and wastewater industries. ControlWave technologies are being used to reduce project costs and increase operations efficiency in hundreds of remote automation applications globally.

The ControlWave Micro base chassis is expandable with up to fourteen slots of I/O. For applications with larger concentrations of I/O, the new Dual Port Ethernet CPU allows communication with several I/O Expansion chassis, each with up to fourteen I/O slots. I/O Expansion chassis may be local to the main controller or remote anywhere with copper or wireless Ethernet IP connectivity. This capability reduces engineering time and cost because only the main controller is programmed with the control and communication strategy.

I/O expansion chassis are available with a selection of one to fourteen slots so the distributed I/O may be sized for each location's requirement. ControlWave Micro I/O offers a variety of mixed digital and analog input and output I/O modules for an extremely cost effective distributed I/O solution.

As an added value, the Ethernet ports can also be used to interface to third party devices through the integral Modbus TCP/IP, DNP3 and CIP protocols. Even serial protocols may 'tunnel' through the Ethernet port, within an IP messaging structure, to a remote terminal server where the messages are automatically converted back to serial format.

Emerson's Bristol ControlWave Designer programming software is compliant with the IEC 61131-3 international standard for PLC programming. Designer supports all five IEC 61131-3 programming languages and is enhanced with a powerful library of ACCOL III process control function blocks allowing the use of a single controller for logic, process control functions, measurement, calculations and data storage. Engineers can also develop their own reusable function blocks, further reducing engineering time and cost. These capabilities are further enhanced with time stamped alarming and historical archive storage within the RTU to provide maximum data integrity. This data is automatically recovered following a communication failure.

About Emerson Process Management

Emerson Process Management (www.emersonprocess.com), an Emerson business, is a leader in helping businesses automate their production, processing and distribution in the water and wastewater, chemical, oil and gas, refining, power, pulp and paper, food and beverage, pharmaceutical and other industries. Remote Automation Solutions (www.emersonprocess.com/Remote), a division of Emerson, is the leading worldwide supplier of flow computers, remote automation units, presets, instruments, and engineered services for the oil, gas, water, wastewater and process industries. Remote Automaton Solutions products and systems are an example of Emerson's combining of superior products and technology with industry-specific engineering, consulting, project management and maintenance services. Emerson brands include PlantWeb®, Bristol®, ControlWave®, FloBoss®, ROC®, Daniel®, Brooks®, Fisher®, Micro Motion®, Rosemount®, Mobrey®, DeltaV(TM), Ovation®, and AMS(TM)Suite.

About Emerson

Emerson (NYSE: EMR), based in St. Louis, is a global leader in bringing technology and engineering together to provide innovative solutions to customers through its network power, process management, industrial automation, climate technologies, and appliance and tools businesses. Sales in fiscal 2006 were $20.1 billion. For more information, visit www.GoToEmerson.com.

Bristol and ControlWave trademarks of Emerson Process Management.

Contacts:
Tom Elf, Emerson Process Management, Remote Automation Solutions Division
1 (860) 945 2200; Tom.Elf@EmersonProcess.com

Jerry Moon, Emerson Process Management
1 (512) 832 3089; Jerry.Moon@EmersonProcess.com