Computer and Communication Terminals
Remote Terminal Unit has embedded Linux platform.
Press Release Summary: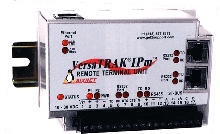 VersTRAK IPm(TM) RTU polls up to 50,000 I/O using combination SixTRAK local I/O modules, EtherTRAK, and Modbus I/O. Its 10/100 auto-detecting Ethernet port and 4 serial ports provide communications. RTU runs on 32-bit PowerPC with 16 MB fast dynamic memory. User programs may be created using ISaGRAF IEC 6113-3 programming tools, or Linux compiler can be used to create applications programs. Linux web server runs web pages created using any standard html development tools.
---
Original Press Release:

VersaTrak® IPm(TM) Open-Source RTU


SIXNET has announced the world's first Remote Terminal Unit with an embedded LINUX platform. This product fulfills the dream of truly open systems giving the user the power and flexibility of LINUX open-source software. It is ideal for datalogging, SCADA and control applications that can benefit from open software and communications.

All of the functionality of the SIXNET VersaTRAK is included in this powerful RTU. User programs may be created using industry standard ISaGRAF IEC 6113-3 programming tools, or a free LINUX compiler can be used to create applications programs. A LINUX web server runs web pages created using any standard html development tools.

A 10/100 Auto-detecting Ethernet port and four serial ports provide abundant communications. Modbus and SIXNET "I/O for Windows" protocols are included and numerous third party developers plan to make available LINUX-based drivers for other protocols. Telephone, radio communications and RS485 party-line media are all supported. A RISC co-processor handles communications enabling all four serial ports to run at high speed with no loss of performance. The LINUX firmware also provides a comprehensive suite of Ethernet and Internet protocols and capabilities as well.

The VersaTRAK IPm runs on a 32-bit PowerPC with 16 Megabytes of fast dynamic memory. All firmware and the user's application are stored in less than four Megabytes of Flash memory, leaving abundant space in the eight Megabyte LINUX file system for additional files or programs. For really large applications, up to 136 Megabytes of Flash memory is available in the largest IPm model.

The VersaTRAK is designed to poll up to 50,000 I/O using a combination of SixTRAK local I/O modules, EtherTRAK (Ethernet) and Modbus I/O. I/O tag definitions can be shared with popular Windows applications using a shared resource database that saves time when configuring systems. A comprehensive suite of development and maintenance tools is supplied by SIXNET to make this RTU a complete system solution.

Certified for operation from -40 to +70 °C, this rugged RTU may be installed in Zone 2 hazardous locations. With its embedded LINUX operating kernel, this RTU has all of the power of a modem computer with the reliability of a high quality embedded controller.

Speaking about the decision to adopt LINUX, Steve Schoenberg, President of SIXNET offered this statement: "Customers are always looking for high performance at the lowest installed cost. Basing our new RTU on the PowerPC and LINUX software was the obvious answer to meeting both criteria. When millions of users share a common open technology, the price/performance curve shifts dramatically. Embedded LINUX solutions will now
explode in the automation marketplace for the same reasons that Industrial Ethernet has. LINUX is truly open, it is very reliable, and the cost effectiveness creates strong incentives to use it."

Media contact for more information:
Jason Koeferl, SIXNET Marketing
Jasonk@sixnetio.com
+1 (518) 877-5173

SIXNET; Box 7670 Clifton Park, NY 12065 USA; +1 (518) 877-51730 Fax +1(518)877-8346; sales@sixnetio.com

More from Construction Equipment and Supplies