Remote Telemetry Unit offers M2M communications via SMS.
Press Release Summary: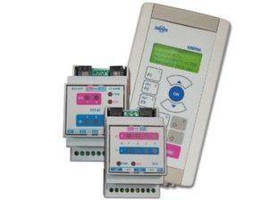 Designed specifically for remote monitoring systems, Infinite SCOM-100 GSM/GPRS Edge RTU supports water tank level monitoring and pump control. Internet-enabled unit can send machine-to-machine SMS commands on event to other SCOM-100 devices to perform local action. Device can also connect to central station using GPRS communications and use standard OPC Server functionality to connect to host SCADA system. Using M2M functionality, any number of SCOM-100 units can communicate with each other.
---
Original Press Release:

M2M Water Tank & Pump Remote Control



Internet-Enabled Remote Data Acquisition



CHESTERLAND, OH – In many water systems there are water tanks that act as pressure boosters. In order to ensure that whole regions and their consumers will not be left without water, it's very important for technicians to monitor the water level in such tanks. When the water level drops, a remote pump house must operate to send water to refill the tanks. Such pump houses may be located hundreds of feet or even miles away from the tanks. Therefore automatic communications between tanks and pump houses are necessary to ensure an unmanned system that operates 24/7.



Technician Requirements:




Monitor the water level in several remote tanks scattered over a geographic region.



Monitor pump houses and automatically receive commands from the tanks to increase pressure in the water pipeline system.



Alert users immediately on the event that any of the tanks are empty.



Communication over a cellular communications network using SMS and GPRS communications.



High expandability.



Proposal:

The Infinite SCOM-100 is a GSM/GPRS Edge RTU (remote telemetry unit) designed specifically for remote monitoring systems. Using machine-to-machine (M2M) SMS commands, SCOM-100 devices can send commands on event to other SCOM-100 devices to perform a local action. For example at a water tank, a low-level digital event can trigger an SMS message to a remote pump station to start the pump and refill the remote tank.



Any number of SCOM-100 units can communicate with each other using their M2M functionality. Digital and analog measurements and events can trigger M2M messages sent to remote stations and maintenance personnel.



Moreover the SCOM-100 is capable of connecting to a central station using GPRS communications and of using its standard OPC Server functionality to connect to a host SCADA system.



The SCOM-100 communicates via SMS and GPRS with users, PCs, and with other SCOM-100 units in M2M--all at the same time.



SCOM-100 Application Benefits:




All-in-one cellular GPRS quad-band solution



Machine 2 Machine communications via SMS



Real-time data acquisition using GPRS



Easy to implement and maintain



Seamless connection to SCADA via OPC server



SMS Alerts & remote control



Infinite Data Loggers:

Infinite iLOG RTU/Data loggers are internet-enabled devices specially suited for remote data acquisition, distributed telemetry and remote control. The units act as master devices and send alarms and data files on their own via FTP, email and SMS.



All unit types feature a built-in TCP/IP web server that publish webpages with live data that can be accessed by any Internet browser application. They accept and serve TCP and SMS commands for interactive operation in a SCADA system.



The iLOGPlus modular expandable RTU/Data Logger offers the same capabilities as the original iLOG plus the capability of expanding up to 16 analog input channels, 16 digital input channels and 8 relay outputs provides unmatched capability in a compact package.



For more info on the new Infinite RTU Data Loggers, or to find the ideal solution for your application-specific needs, contact a CAS Data Logger Applications Specialist at (800) 956-4437 or visit our website at www.DataLoggerInc.com.



Contact Information:

CAS DataLoggers, Inc.

8437 Mayfield Rd.

Chesterland, Ohio 44026

(440) 729-2570

(800) 956-4437

sales@dataloggerinc.com

www.dataloggerinc.comInternet

More from Materials