Remote Sensor Monitoring Devices log data and send notifications.
Press Release Summary: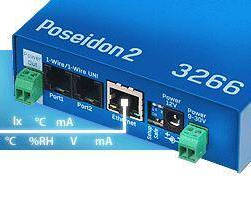 Used for remote monitoring over Ethernet, Poseidon2 3266/3268 can log measured data; monitor temperature, humidity, or voltage; and monitor detector states (DI inputs) and up to 8 other external sensors and 4 detectors. Alarm emails can be sent if values venture outside set safe range. Also able to connect to other monitoring systems, devices can send alarm SMS messages through shared HWg-SMS-GW. Poseidon2 3268 has 2 relay outputs for setting other devices.
---
Original Press Release:

Poseidon2 - A New Generation of Remote Sensor Monitoring Over LAN



HW group s.r.o. has recently introduced two new generation models from a Poseidon2 product family, designed for remote monitoring in IT environment.



Poseidon2 3266 and Poseidon2 3268 devices are used for remote monitoring over Ethernet. The units can log the measured data, monitor temperature or voltage, monitor detector states (DI inputs) and up to 8 other external sensors and 4 detectors. Both devices can send alarm emails in case any value gets out of its set safe range and it can be also connected to other monitoring systems. Several Poseidon2 devices can also send alarm SMS messages through a shared HWg-SMS-GW.



Poseidon2 3266 finds use in solutions for remote monitoring in IT environment, measures temperature, humidity and other values, contains an inner memory (data logger) and is compatible with any SNMP system. Typical application is temperature measuring in several points, monitoring of freezers and refrigerators or air conditioning monitoring.



Poseidon2 3268 has also 2 relay outputs, therefore it can not only send an alarm email/SMS but also it can set for example a cooling system or a ventilation in case of exceeded temperature range. The unit can be used for switching air conditioning / ventilation in racks, detects door opening and with the relay outputs it can control electronic locks.



Poseidon2 3268 can be used for measuring temperature or other values and for sending the data afterwards to the cloud portal, or in camera systems for switching the lights in certain areas and opening/closing the gates. Similarly as Poseidon2 3266, Poseidon2 3268 has use in industrial applications too.



Poseidon2 devices can be connected to online SensDesk.com portal, which allows users to view all the sensors at one place in a web browser, as in cloud applications. Connected Poseidon2 devices can be then installed in several places and the overview can be accessed also in applications for Android or Apple smartphones. Online portal SensDesk.com is available for free.



HW group s.r.o I U Pily 3/103 I Prague 4 I 143 00 www.HW-group.com

More from Electronic Components & Devices