Remote Racking System features magnetic latching system.
Press Release Summary: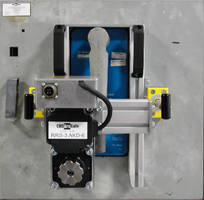 Designed to operate GE's Type AKR air circuit breakers with 800–2,000 A ratings, Model RRS-3 AKD-6 allows technicians to remotely install and remove breaker from up to 300 ft away. Portable unit offers mechanical and/or electrical safety protection, adjusts to fit electrical equipment configurations, minimizes need for personal protection equipment, and helps with NFPA 70E arc-flash safety compliance. Optional features include 25 ft extension cables, 24 Vdc LED light, and wireless video camera.
---
Original Press Release:

CBS ArcSafe® Introduces RRS-3 AKD-6 for General Electric Type AKR



The CBS ArcSafe® RRS-3 AKD-6 single-application remote racking system (RRS) is designed to operate the General Electric Type AKR air circuit breaker without having to make any modifications to existing electrical equipment, thanks to CBS ArcSafe's magnetic latching system. The lightweight, portable RRS-3 AKD-6 allows technicians to remotely install and remove a breaker while standing up to 300 feet away. The RRS-3 AKD-6 is compatible with Type AKR air circuit breakers with ratings of 800–2000 A, including AKR/AKRT/AKRU – 4A/4B/5A/5B – 30/30H/50/50H. Typical usage for the AKR breaker include commercial, industrial, and service entrance applications to protect and switch main, feeder, and incoming lines. Designed, manufactured, and assembled in the United States, all RRS-3 units are portable, fast, and easy to set up, offer mechanical and/or electrical safety protection, adjust to fit unique electrical equipment configurations, reduce the requirements for personal protection equipment (PPE), and help customers with NFPA 70E arc-flash safety compliance. Optional features include 25-foot extension cables, 24 V DC LED light, wireless video camera system with LCD monitor, and rugged protective case assembly.



DESCRIPTION

• Remote operation from up to 300 feet

• Lightweight, portable, and adjustable

• Simple setup; no equipment modification required

• Reduces or eliminates need for arc-flash hazard suits

• Designed, manufactured, and assembled in the United States



OVERVIEW

WEIGHT: 25 lbs

DIMENSIONS: 12"L x 14"W x 15.5"H

POWER CONSUMPTION: 100W

OPERATING DISTANCE: 25–300 feet

COMPATIBILITY: Type AKR, includes AKR/ARKT/AKRU–4A/4B/5A/5B–30/30H/50/50H

CONTROL/POWER SOURCE: CBS ArcSafe® RSO-IV Control Console

SPECIFICATIONS





More from Software