Remote Monitoring, Notification Now Available for MSA Safety's Fixed Gas and Flame Detectors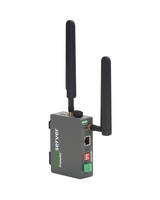 Cranberry Township, Pennsylvania, April 21, 2022 -- Engineers seeking a cloud-ready fixed gas and flame detection monitoring solution will find that the highly reliable, proven FieldServer FGFD ProtoAir Gateway from MSA Safety provides them with an intelligent, dependable, flexible, advanced technology answer to process and plant safety.
Many hazardous industry plants are today operating non-stop to keep up with demand due to supply chain and geopolitical instability. The FieldServer FGFD ProtoAir Gateway gives process and plant engineers the flexibility to stay connected 24/7 to their fixed gas and flame monitoring systems while away and/or to keep an eye on unstaffed sites or facilities.
MSA's advanced FieldServer FGFD ProtoAir Gateway is a wireless external, high-performance, low-cost industrial plant control and building automation IIoT gateway. It provides cloud connectivity and instant deployment of multiple field protocols, enabling new or legacy devices to easily interface with other protocols.
Every Fieldserver FGFD ProtoAir Gateway is factory pre-configured before delivery with MSA Safety's most popular fixed gas and flame detection products, which enables seamless Cloud communications to one or many of its MSA FGFD detectors and systems that monitor: toxic gases, oxygen deficiency, combustible gases, and open flames.
The FieldServer FGFD ProtoAir Gateway pre-programmed fixed gas and flame detectors available include: Ultima® X5000, Ultima X, ChillGard® 5000, ChillGard VRF, TriGard, ZGard®, Senscient ELDS™, S5000, IR5500/OPIR-5, FL500 UV-IR, FL500 UV-IR H2, FL4000H MSIR, MC600, SupremaTouch and ModCon 75 Touch. These detectors and controllers are recognized as the world's leaders in their class across a wide range of industries such as aviation, chemical, electric power generation, food/beverage, mining, oil/gas production, petrochemical refining, pharmaceuticals, and more.
Not only can the FieldServer ProtoAir Gateway be used with MSA's FGFD field devices, but it can also be expanded to include other process safety equipment that have 4-20 mA, Modbus or BACnet connectivity. For example should a fire event be detected by the FL500
FieldServer FGFD ProtoAir Gateway
Flame Detector, the system could be expanded to include notification and automatic Halon gas or sprinkler extinguishing systems. Similarly, should a gas leak event be detected by the Ultima X5000, the control system could notify a valve to shut off the line or take action to bypass it.
Integrated MSA Grid Cloud support enhances the ProtoAir's value by enabling remote monitoring, control, cloud-based alarm notifications (SMS or E-Mail) for trouble or alarm conditions and data visualization through MSA Grid dashboards. Users can view data, configure dashboards, download historical data, and provide remote monitor/control for connected devices without being on site.
The ProtoAir FPA-C4X uses LTE to securely connect devices to AT&T, Verizon or Vodafone networks. This cellular connection allows IoT applications to move machine data into the cloud for maintenance, management and troubleshooting of remote equipment. An embedded OpenVPN Server enables secure remote access and programming of the OEMs Ethernet devices in the field.
When housed in a NEMA 4 enclosure, the FGFD ProtoAir is suitable for hazardous applications and comes with a built-in cellular antenna and all the relevant safety precautions. The MSA Grid FieldServer Manager provides the best, most cost-effective, and easiest method to deploy solutions to meet today's demands for cloud-based connectivity.
FieldSafe is a security feature set added to every FieldServer gateway. The FieldSafe feature set ensures device security in a world where cyberattacks are increasing in frequency and threats are becoming more sophisticated by securing the local hardware and the MSA Grid application with some of the latest technologies that are currently available in the IoT marketplace.
About MSA
Established in 1914, MSA Safety Incorporated is the global leader in the development, manufacture and supply of safety products that protect people and facility infrastructures. Many MSA products integrate a combination of electronics, mechanical systems and advanced materials to protect users against hazardous or life-threatening situations. The company's comprehensive product line is used by workers around the world in a broad range of markets, including the oil, gas and petrochemical industry, fire service, the construction industry, mining and the military. MSA's core products include fixed gas and flame detection systems, portable gas detection instruments, industrial head protection products, self-contained breathing apparatus, fire and rescue helmets, and fall protection devices. With 2021 revenues of $1.4 billion, MSA employs approximately 4,800 people worldwide. The company is headquartered north of Pittsburgh in Cranberry Township, Pa., and has manufacturing operations in the United States, Europe, Asia and Latin America. With more than 40 international locations, MSA realizes approximately half of its revenue from outside North America.
Contact:
MSA
Angela Sauceda
+1-949-268-9526
[email protected]