Remote Inspection Videoscopes offer precision steering for QC.
Press Release Summary: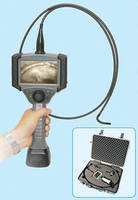 Featuring 4.3 in. monitor with resolution from 160,000–440,000 pixels, TVT Series includes 5 models with working lengths from 1–3 m and diameters of 2.8, 4.5, and 6 mm. Mechanized joystick, which uses input to directly control camera articulation, promotes smooth and accurate control of articulating tip with immediate response. Depending on model, series offers 1/18, 1/10, or 1/8 in. image sensor and 5–50 mm or depth-of-field of 15 mm to infinity with either 2- or 4-way articulation.
---
Original Press Release:

Titan Tool Supply Introduces New Line of Low-Cost Videoscopes for Remote Inspection



Titan Tool Supply, Inc., Buffalo, New York, announces the introduction of its new line of TVT Series videoscopes to provide high-quality remote visual inspections for quality control. Lower in cost than comparable videoscopes, the new TVT line includes five different models with working lengths from 1m (40") to 3m (118") and three diameters (2.8mm, 4.5mm and 6mm). Titan Tool states that the 2.8mm diameter model enables inspections through extremely small openings. The videoscopes are designed for use in aviation maintenance, casting inspection, cavity inspection, diesel engine repair, gasoline engine repair, locomotive maintenance, ship maintenance, and other areas and application where remote visual inspection is needed.



The new TVT Series videoscopes feature an easy-to-use mechanized (rather than manual) joystick that uses input to directly control camera articulation. This results in smooth and accurate control of the articulating tip with immediate response to the joystick inputs. It also allows the camera tip to be steered through narrow bores, channels, and through complex curves, according to the company. The camera will hold its position even when pressure on the joystick is released.



The new TVT Series videoscopes also feature a 4.3" monitor with resolution from 160,000 to 440,000 pixels and image sensor of 1/18", 1/10", or 1/8" depending on model. Depth-of-field is 5mm to 50mm or 15mm to infinity with articulation either 2-way or 4-way (also depending on model). The sheathing is abrasion-resistant, and each unit is packed in a heavy-duty case that also includes an 8 GB SD card, Li-ion battery pack, and a battery charger.



For more information, contact:

Titan Tool Supply, Inc.

68 Comet Avenue

Buffalo, NY 14216

Phone: 716-873-9907

Fax: 716-873-9998

Email: info@titantoolsupply.com

Website: www.TitanToolSupply.com



For product details and pricing, download a PDF file at: https://www.titantoolsupply.com/productDetail.asp?id=27143&md=d&mode=showDetail.



Please send reader service inquiries to the above address to:

Frank Menza

President

Titan Tool Supply,Inc.

Email: info@titantoolsupply.com



For electronic files or additional information, contact:

Paul V. Offermann

Harold Warner Advertising, Inc. 

700 Parkside Ave.

Buffalo NY 14216

Phone: 716-852-4410 

Fax: 716-852-4725 

Email: paul.offermann@haroldwarner.com

More from Vision Systems