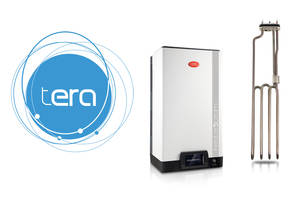 Brugine (PD), 26 July 2019 - CAREL, a multinational specialising in control solutions for air-conditioning, refrigeration and air humidification, offers its customers remote supervisory services that provide added value to its product range. Supervisory services have now also become an integral part of the standard CAREL solution for humidification, facilitating installation, system management and maintenance.
Remote control of HVAC and humidification systems
tERA is the CAREL platform that creates a centralized remote management system for all HVAC applications, and has been recently upgraded for the humidification systems.
tERA services can be used to remotely display and modify the humidifier variables, with consequent benefits in terms of ease of management. tERA ensures fast and simple access to all the information needed to optimize the work of the site's technical and service team.
The solution also provides graphs and dashboards relating to overall system performance: valuable tools that help optimize performance and save energy.
Remote alarm management
tERA services provide alarm notifications in real time: maintenance personnel are promptly alerted by message or email, and can take action to solve the problem via a remote connection. This minimizes downtime and ensures end customers better service.
The benefits are twofold: maintenance technicians save time and money in their work, while end customers can rely on more efficient and prompt service.
Heater humidifiers
heaterSteam titanium is the world's only humidifier with titanium heaters, and it is also the first in the CAREL range to be covered by the renewed tERA supervisory proposal. The reliability of titanium, combined with over-temperature protection, makes heaterSteam the natural solution for applications where service continuity is crucial. heaterSteam is moreover equipped with a new touch display designed to improve the user experience in humidifier management. From aesthetics to performance, ease-of-use and consistency with the past, everything on this display is designed to simplify access to the available information.
Press information
CAREL Media Relations Manager, Paola De Troia
T. +39 049 9731 899
CAREL
CAREL is one of the world leaders in control solutions for air-conditioning, refrigeration and heating, and systems for humidification and evaporative cooling. Our products are designed to bring energy saving and reduce the environmental impact of equipment and systems. Our solutions are used in commercial, industrial and residential applications. CAREL has 23 fully-owned subsidiaries and 9 production sites, as well as partners and distributors in a further 75 countries.
For further details, go to www.carel.com
Related