Remote Graphics Unit suits professional applications.
Press Release Summary: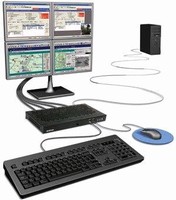 With Extio(TM) F1400, keyboard, mouse, monitors, audio peripherals, and graphics hardware are separated from rest of computer by up to 820 ft of fiber-optic cable. Product supports up to 4 digital or analog monitors simultaneously and has passive cooling. It includes graphics chip, 128 MB graphics memory, dual-LC connector, 4 DVI-I monitor connectors, 6 USB 2.0 ports, integrated audio hardware, optical connector for digital audio output, and analog audio connectors.
---
Original Press Release:

New Matrox Extio F1400 is World's First Remote Graphics Unit



Montreal, Canada, February 22, 2006 -- Matrox Graphics Inc., the leading manufacturer of graphics solutions for professionals, announces Extio(TM) F1400, the world's first remote graphics unit. With this solution, the user interface of the computer -- the keyboard, mouse, monitors, audio peripherals, and graphics hardware -- are separated from the rest of the computer by up to 250 meters (820 feet) of fiber-optic cable. Designed for professional applications, this product supports up to 4 digital or analog monitors at a time, and has passive (fanless) cooling.

"Matrox remote graphics unit technology is ideal for a variety of mission-critical applications like computer-aided dispatch, security monitoring, and process control," says Samuel Recine, Product Manager, Matrox Graphics. "With its unique combination of features, this product can help save time and money, and increase system security."

Matrox Extio provides extra security and reliability by allowing the critical parts of a computer like the disks, memory, and processors to be kept in a separate, safe, secure room. This also saves space at the work station, removes a potentially noisy computer, and allows system administrators to access and maintain the system at a separate location. This technology has a better combination of integration, reliability, image quality, and distance than other extension technologies.

The versatile Matrox Extio F1400 remote graphics unit (RGU) has a Matrox-designed graphics chip, 128 MB of graphics memory, dual-LC connector for fiber-optic cable, 4 DVI-I monitor connectors, 6 USB 2.0 ports (4 in front, 2 in back), integrated audio hardware, an optical connector for digital audio output, and analog audio connectors for a microphone input, line input, and line output. To meet different slot requirements, Matrox separately offers PCI or PCI Express (PCIe) fiber-optic interface cards for Extio products.

For more information on this product and other Matrox products:
http://www.matrox.com/mga/workstation/3dws/products/home.cfm

Availability and pricing -- Matrox Extio F1400 will be available in the second quarter of 2006. For pricing and other sales information, call 1-800-361-1408 (North America) or e-mail [email protected].

About Matrox Graphics Inc. -- Matrox Graphics Inc. is the leading manufacturer of graphics solutions for professionals and has been delivering high-quality, innovative 2D/3D and video graphics accelerators since 1976. Creator of the multi-display phenomenon, Matrox combines its proven graphics chip designs, reliable software development and dependable card manufacturing expertise to produce products that are reputed worldwide for their superior image quality, practical ingenuity and unwavering stability. Matrox Graphics designs and supports graphics solutions optimized for utility, empowering professionals to see more and do more. A privately held company headquartered in Montreal, Canada, Matrox has international offices in the United States, the United Kingdom, Ireland, Germany, Italy and Hong Kong. For more information, visit http://www.matrox.com/graphics.

Matrox Graphics, Matrox Electronic Systems, Matrox, and DualHead are registered trademarks of Matrox Graphics Inc. and/or Matrox Electronic Systems Ltd. Other company, product and service names and/or logos indicated above may be trademarks or service marks of such other companies.

More product information:
http://matrox.com/mga/workstation/3dws/products/extio/f1400_overview.cfm

Image library:
http://matrox.com/mga/workstation/3dws/products/extio/f1400_images.cfm

Serge Bohdjalian
Marketing, Matrox Graphics
http://www.matrox.com/graphics
Tel: (514) 822-6000, ext. 2855