Remote Control Transporter ensures spent fuel storage safety.
Press Release Summary: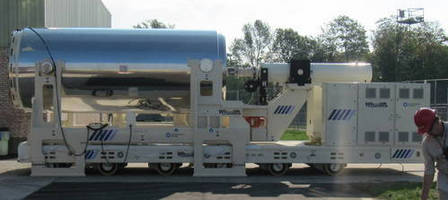 Intended for spent fuel cask transport/alignment in NUHOMS®-type ISFSI installations, Self-Propelled Modular Transporter (SPMT) can be operated by one person from as far as 30-50 ft away. Omnidirectional steering and 10 in. lift capability lets operator perform alignments remotely to within 1/32 in. and eliminates need for independent leveling and alignment system. Also, transfer cask can be removed so that transporter can be used for other heavy haul tasks as needed.
---
Original Press Release:

Constellation Energy's Remote Control Transporter Increases Safety and Efficiency in Spent Fuel Storage



Wheelift Systems announces increased levels of safety and efficiency available for spent fuel cask transport and alignment for NUHOMS-type ISFSI installations. (NUHOMS is the registered trademark of TransNuclear Inc and their parent company, AREVA.)

The Wheelift Self-Propelled Modular Transporter (SPMT) reduces worker exposure by requiring fewer persons to operate align and insert the cask. Only one person is needed to operate the transporter from as far as 30 to 50 feet away. The transporter's omni directional steering and ten inch lift capability allows the same operator to perform alignments remotely to within 1/32nd of an inch and eliminates the need for an independent leveling and alignment system.

The transporter uses an on board diesel driven generator to supply the transporter's electric power. This on-board generator also provides power for the transfer cask ram's hydraulic power unit. An alternative shore power connector is available for near silent operation as a back-up system while aligning and loading spent fuel.

The Wheelift transporter utilizes a custom designed cask support skid atop its deck with the push cylinder fitted with an electrically actuated grapple to eliminate the industry norm's possibility of a broken hydraulic line that could potentially contaminate the HSM.

Constellation Energy's Ginna Nuclear Plant in upstate New York was the first to use the Wheelift transporters in their NUHOMS spent fuel storage operations. "The degree of added safety, fast precision alignment and effortless movement throughout the process has totally changed our approach to spent fuel handling." said Bryan Flynn, Project manager for the Ginna ISFSI project.

In addition to time and space savings achieved, greater efficiencies are gained in the spent fuel storage process. The Wheelift SPMT's omni-directional travel capability allows increased maneuverability in tight spaces. Because each axle and wheel is independently controlled, the transporter can travel forward, backward, laterally, obliquely and rotate about any point fully loaded. This capability allows for greater storage density and utilization of the space needed for ISFSI storage facilities without losing the ability to easily align the NUHOMS casks with the HSM. Tug and trailer technology typically requires 70 feet of space between the HSM modules.
Wheelift's SPMT's can operate in 35-40 feet allowing greater storage efficiency for both current and future storage needs. The transfer cask can be removed from the Wheelift transporter deck to allow the unit to perform other heavy haul tasks as needed. This multi-task versatility can augment or eliminate other heavy lifting equipment such as cranes. Bryan Flynn adds, "We are currently looking at making alternative skids for our refueling outage, to be able to move other heavy components with the transporter." View that interview at http://youtube.com/watch?v=rtHkAajlOT0

The Wheelift heavy transporter and trailer capability group is part of the Doerfer Companies' TDS Automation group, headquartered in Waverly, IA. Doerfer's proprietary Wheelift technology offers customers individual powered and controlled wheel modules that provide flexibility not previously available in moving very large payloads. Doerfer was founded in 1961 to provide assembly automation and engineering services to the agricultural and metalworking industries. It has since grown to become the leading entity providing turnkey factory automation, press technology, tooling and automated guided vehicle technologies. These core competencies, applied to a diverse industry cross section, incorporate numerous advanced technological capabilities, including specialized expertise in the nuclear, specialty fibers and chemical industries. Doerfer manufactures large format hydraulic presses, ranging in size from 500 to 13,000 tons, for the aerospace, automotive, building products and transportation industries. Operating one of the largest tool and die facilities in the Southeast United States, as well as a facility in the Midwest, Doerfer serves the forming needs of customers in the aerospace, appliance, automotive and HVAC industries. Doerfer specializes in custom heavy capacity Automatic Guided Vehicle Systems (AGVS) with traditional wire or laser-guidance systems as well as inertial guidance technology.

More from Electronic Components & Devices