Remote Control Potentiometers facilitate automation upgrades.
Press Release Summary: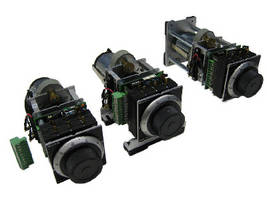 Operating at 24 Vdc, MR266 Series Remote Control Rheostats and MR267 Series Remote Control Potentiometers offer choice of 4-20 mA or 0-10 V input/output interface for compatibility with PLC, DCS, A/D, D/A, and other control devices. MR267 Series replaces low power potentiometers rated less than 5 W, in range of 100 to 100K W, while MR266 Series replaces high power rheostats in range of 2.0 to 50K W with 4 power options of 20/60/170/300 W.
---
Original Press Release:

Micronor's New MR266/MR267 Remote Control Potentiometers Simplify Automation Upgrades



Micronor's new MR266 series Remote Control Rheostats and MR267 series Remote Control Potentiometers are turn-key solutions for upgrading manual potentiometer-based process controls to automated PLC control. The products operate at 24 VDC and offer choice of 4-20mA or 0-10V input/output interface for compatibility with the broadest range of PLC, DCS, A/D, D/A and other control devices. Mounting options include front panel mount (MR267 only) and DIN rail mount. MR266 series replace low power (< 5 Watts) potentiometers in range of 100 to 100K Ohms. MR266 series replace high power rheostats in range of 2.0 to 50K Ohms with four power options (20/60/170/300 Watts).

In addition to analog input/output control, the MR266/MR267 series offer additional features. Three user-adjustable trimpots determine the MIN (4mA/0V input), MAX (20mA/10V input) and SPEED (10-120 seconds) set points. An OVERRIDE mode option allows the system engineer to define how the unit shall respond when a user tries to manually override the unit via the front panel knob. Setting the OVERRIDE DIP switch to ON disables analog input control until a Reset is performed. The optional MR267A OVERRIDE Pushbutton/LED indicator assembly is offered as a turn-key accessory for use with the OVERRIDE mode.

EXAMPLE. A systems engineer wants to automate the speed control of motor drive system which is manually controlled via a 2W potentiometer adjusted within the range of 10-85 Ohms. The engineer has a PLC interface available with 4-20mA programmable output. The user would specify an MR267 configuration with a non-isolated 4-20mA input and 100 Ohms potentiometer. Upon receipt of the unit, he would then set MIN (4mA input) corresponding to 10? potentiometer setting and MAX (20mA input) corresponding to the 85 Ohm position. NOTE: The factory default settings are: MIN=0?, MAX=100? and SPEED=10s.

The MR266 Remote Control Rheostat also offers a convenient way of relocating high power (i.e. hot!) rheostats closer to the controlling equipment - for shorter electrical connections and better thermal control. Simply mount the MR266 unit in the environmentally-conditioned instrument cabinet and then remotely control it from the operator's console via the optional HPFF front panel-mount control accessory.

The MR266/MR267 series remote control rheostats/potentiometers operate from 24V DC with an operating temperature range of -15°C/+65°C and storage temperature range of -20°C/+75°C. High wattage rheostats may require temperature derating if operated near their power limits. In small quantities, a typical MR267 motorized potentiometer with non-isolated 4-20mA input is $995 with 2-3 week lead time. The typical MR266 series motorized rheostat configuration ranges from $1295 (20W) to $1495 (60W) to $1695 (170W) to $2495 (300W) - with 4-6 week lead time.

About Micronor

Micronor is a leading supplier of reliable and rugged components for industrial automation and process control industries as well as military, aerospace, medical and other harsh/hazardous environmental applications. Motion control products include encoders, resolvers, cam timers, programmable limit switches, motorized potentiometers, pulse generators, handheld pendants and custom engineered feedback and control units. Micronor was founded in 1968 and has regional headquarters in both the United States and Europe.

CONTACT INFORMATION:

Dennis Horwitz

Vice President, Sales & Marketing

Micronor Inc.

750 Mitchell Road

Newbury Park, CA 91320 USA

TEL: (805) 499-0114

FAX: (805) 499-6585

EMAIL: dennis@micronor.com

www.micronor.com

More from Communication Systems & Equipment