Rem Sales Announces New, Economic and Capable 20mm Swiss Turns from Tsugami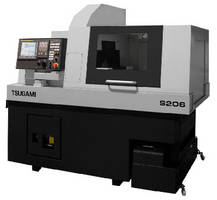 [WINDSOR, CT] Rem Sales of Windsor, Connecticut announces the introduction of two new Tsugami Precision Swiss turns, available for delivery as early as March 2010. Rem Sales, a division of Morris Group, Inc. is the exclusive North American importer of the full line of Tsugami Precision Swiss CNC machine tools. The new 20mm models, the Tsugami S205 and Tsugami S206, were designed to provide Swiss technology users the flexibility and capability to meet a wide range of needs, at an affordable price.

"This exciting new 'S' platform allows our customers a full range of capabilities and enhanced productivity, which will help them differentiate from their competitors," states Scott Anthony, National Sales Manager of Rem Sales. "The new machines are a natural evolution for them as many have embraced the concept of flexibility, as demonstrated by the successful introduction of the 'Super SwissTurn' SS Series just three years ago. The new S205 and S206 models feature a modular tool zone similar to that found in the SS Series but offer a lighter frame and faster spindle speed, setting the bar high for the 20mm Swiss turn market."

Both machines are ideally suited for the production of complex parts. Live tools for cross and face operations are found on the main and sub spindle. A two-path control permits true simultaneous operation of the main and sub spindle, dramatically reducing cycle times. The modular and roomy tool zone allows driven tools to be moved from main to sub spindle and from face to cross positions with ease by the operator, minimizing down time between different jobs.

The S206 has the same capabilities of the S205 plus backworking y-axis movement. An easy-to-use Fanuc 31-iA control is standard on both models which also can accommodate an optional "chucker kit" that allows the machine to be run as a Swiss turn or fixed headstock lathe. The fixed headstock configuration can use unground bar stock, eliminating costly bar remnants and improving part concentricity.

For more information, contact your local Tsugami distributor or Scott Anthony, National Sales Manager, Rem Sales, via e-mail (santhony@remsales.com) or phone (860) 687-3400. Visit www.tsugamiusa.com for additional information and news.

More from Optics & Photonics