Reliance Foundry's New Highly-Durable Line of Retractable Bollards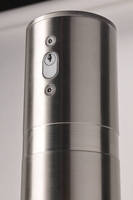 Reliance Foundry Co. Ltd. has announced that it will be increasing the potential for use of its retractable bollard line by releasing new models designed especially for use in coastal environments and other applications where there may be greater exposure to moisture. Reliance Foundry's retractable bollards are sleek access control devices that were, in the past, highly susceptible to the demands of the environments in which they were installed. The newly enhanced models feature a highly-durable 316 stainless steel construction that will provide more resiliency in areas with a higher water table or where de-icing chemicals or stronger-than- normal cleaning agents are frequently used.  The resiliant 316 stainless steel construction makes the new models an ideal solution for an increased number of streetscapes.



"Because retractable bollards spend a lot of time underground and are housed in a hollow receiver, moisture can present a severe challenge," says Rick Pasternak, Sales Manager at Reliance Foundry. "A stronger-than-normal composition is required where there is more moisture and that is why we decided to introduce the new 316 stainless steel models."



Often called "marine-grade," 316 stainless steel is known for its resistance to corrosion and its exceptional durability. 304 stainless steel will perform well in areas that are exposed to mid-range levels of moisture but may be damaged in more intense environments. Reliance Foundry's new models will provide the ultimate in durability. Although they still may be susceptible to rusting under extreme conditions, they will stand in more adverse environments than ever before. The tougher composition of the 316 bollards will offer greater resiliency in coastal environments and areas where de-icing chemicals or stronger-than- normal cleaning agents are frequently used. They will stand where previous models may have failed. The enhanced composition of the new models will prove to be a game changer in the use of retractable bollards.



"We're excited about the new possibilities for the installation of our enhanced line of retractable bollards," says Reliance Foundry's President, Brent Done. "We think that their ability to withstand the demands of tougher climates means that you will be seeing more the bollards that deliver the most convenient form of access control."



Reliance Foundry has released four new models of 316 stainless steel retractable bollards along with corresponding fixed 316 SS bollard and removable 316 SS bollard models. Powder-coated versions of the new 316 stainless steel bollards are also available. Retractable bollards telescope into the ground meaning no storage space is required for the bollard once it is removed. Models are available with locking systems that allow them to be locked solely in an upright position or locked in both the upright and lowered position. With the introduction of the extra durable models, Reliance Foundry's retractable bollards are the now perfect system for accommodating changing access on almost every streetscape.

More from Packaging Products & Equipment