Reliance Foundry Bollards Stand In When Alarms Fall Short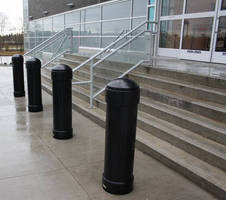 A recent "smash-and grab" attempt at a Vancouver-area retailer caused thousands of dollars in damage to a local storefront, highlighting the need for improved perimeter security. The company turned to Reliance Foundry for decorative security bollards that will prevent a vehicle from being driven directly into the front of the store again.

Thanks to Reliance Foundry, a local Future Shop, one of Canada's Best Buy subsidiaries, can avoid "smash-and-grab" burglaries. Thieves intent on acquiring electronics in Surrey, British Columbia, recently tried a frontal assault. Despite the certainty of an alarm system, they attempted a smash-and-grab, backing a stolen pickup truck up a flight of stairs and through the store's front doors at 2 a.m. Though they fled as police sirens converged, they came close to success - the truck bed was full of store products.

While it didn't lose inventory, the store suffered over $100,000 in damages, and was forced to operate through an unattractive plywood entrance at the height of the winter holiday shopping season while repairs were completed.

Bollards spaced to prevent a vehicle assault quickly emerged as the best solution to prevent similar incidents. Bollards are an attractive and affordable way to prevent vehicles from being rammed into buildings by would-be thieves. Because they must be close to entries (thus highly visible) to be effective, decorative bollard covers enhance architectural interest, avoiding the bunker look that plain steel or cement barriers may create.

The first step in preventing a further occurrence, the installation of concrete-filled steel pipes, achieved the desired prevention, but gave the store entry an unattractive appearance. Future Shop found a solution from Reliance Foundry Co. Ltd., a bollard supplier from the Vancouver area, adding decorative bollard covers that create architectural appeal, thereby transforming the steel pipe eyesore into an asset.

"Security bollards are the simplest, most secure and least expensive way to protect structures from security vehicle penetration threats like break-ins. They are becoming a routine architectural feature in the design of new buildings, and additions to existing structures," said Brad Done, vice president of Reliance Foundry Co. Ltd.

Done said many designs use standard bollards in utility areas, but add decorative metal covers in public entry areas.

"Reliance Foundry's bollard division offers more than 35 styles with durable powder coated options that complement historic to new building styles", Done said. Five finishes are used most frequently - textured black, dark green, statuary bronze, anodized grey metallic and anodized silver; all are available as standard options, with more color choices available to meet customer's exact specifications.

"Decorative bollard covers are usually paired with concrete-filled steel anti-ram posts for maximum security and perimeter protection. Bollards also manage traffic by separating pedestrians from vehicles - while allowing easy pedestrian access to a designated property. Chains can be used between bollards to direct people and vehicle flow, without the unattractive and less adaptable use of fencing," Done said.

Adding still more flexibility, retractable or removable bollards are a good choice for areas where occasional maintenance and emergency vehicles need to access the building, Done added.

Visit www.bollards.ca for more information about Reliance Foundry's entire Bollard product line.

More from Architectural & Civil Engineering Products