Reliance Foundry Adds Bicycle Parking and Anti-Theft Products Reliance Foundry Adds Bicycle Parking and Anti-Theft Products.
Press Release Summary: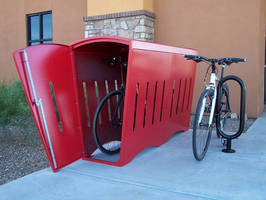 x
---
Original Press Release:

Reliance Foundry Adds Bicycle Parking and Anti-Theft Products



Reliance Foundry took almost a year to identify bike rack and other bicycle storage solutions to meet rapidly growing demand from bicyclists and property owners, and has added a new web site - Bike Parking by Reliance Foundry - to showcase a number of new products. Bike riders say secure parking tops their list when choosing bicycling destinations.

Bicycle parking that is secure and convenient has been found in many studies to be the primary factor in how much the exploding number of bicycle riders use their bikes and, even more, what they choose as their destinations.

Americans and Canadians are jumping on the bicycle, and thus bike parking is a serious transportation factor. The bicycle has long been a favorite mode of personal transportation in Europe, China, Japan and many other countries. The Netherlands leads the world in bicycle use, while Minneapolis stunned tradition by grabbing the highest rate of cyclists per capita in the United States from longtime leader Portland, Oregon, last year. Quite a feat, especially given cold snowy winters versus a city that rarely sees the white stuff.

Bikes win big on environmental merit, too. An average medium-sized car traveling an average of 1,000 miles per month emits an astonishing 6.6 tons of carbon dioxide each year. Just commuting to and from work 10 miles each way creates annual emissions of 1.4 tons per vehicle. It's increasingly easy to tie bike riding to longer trips as buses and other mass transit add bike racks. Many people are surprised to learn that city bicycle riders actually inhale less carbon monoxide than those driving cars, because they don't get stuck in long traffic jams, and can take to sidewalks if bike lanes are unavailable.

"But without secure bicycle racks and other bike storage and parking options, most people will ride bikes mostly for pleasure. As customers and employees request bike rack and other bike storage options, businesses, condos, apartment buildings and other destinations need to respond to stay competitive in local marketing," said Brad Done, vice president of Reliance Foundry Co. Ltd.

"Inquiries from customers led us to begin development of a line of bicycle storage products that we know provide excellent bike theft protection, the biggest problem facing bike riders. We took almost a year to learn about the best bike parking solutions and then to find products of excellence to meet the highest standards for both security as well as product quality and service life", Done added.

Reliance Foundry is offering the most effective designs for bicycle racks along with a new option, bike bollards, aesthetically pleasing bollards that enhance the streetscape and can provide perimeter security when installed near buildings, Done said. "For bicycle riders commuting to work, or planning to be away from where their bike is parked for an extended period of time, bicycle lockers are the top choice. Many public transport stations, businesses and parking garages are installing bike lockers near workplaces, or where riders can't store their bicycles inside their condo or apartment", he said. "Bike storage lockers add safe storage for bike panniers and other carriers, helmets and other accessories riders also wish to store."

Visit our new bike parking web site to see Reliance Foundry's full range of bicycle parking solutions. A wide range of bike bollard and bicycle rack colors is available to compliment any color scheme. While textured black is the most common bollard color, other popular finishes include green, bronze, grey and silver.

More from Sensors, Monitors & Transducers