Reliable Ka-Band Point Contact Mixer Diodes with Low Noise Figure and VSWR Ideal For Doublers, Modulators, and Double Balanced Mixers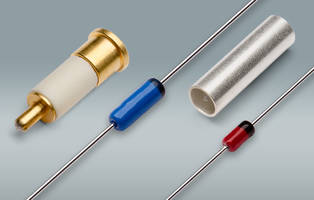 Manchester, NH - November 15 , 2016 - SemiGen, Inc. ( www.semigen.net ), an ISO and ITAR registered RF/Microwave assembly, automated PCB manufacturing, and RF Supply Center, now offers a series of Point Contact Mixer Diodes, the 1N series.
The 1N series point contact mixer diodes perform into the Ka - band. Each device in the series ideally designed with noise figures as low as 5.5 dB at 3.060 GHz and 6.0 dB at 9.375 GHz. With VSWR's of 1.3:1 and impedances ranging from 200 - 600Ω, these devices can serve as drop in replacements for all military and commercial requirements. These point contact mixer diodes are designed in cartridge style packages with mechanical reliability with operating temperatures ranging from -55°C to 150°C.
These diodes employ epitaxial silicon growth in a specific reactor for optimized performance and are suitable for stripline applications as well as for use in designs of doublers, modulators, and double balanced mixers. To learn more, visit the SemiGen product library to download a full datasheet on the 1N Point Contact Mixer Diodes.
About SemiGen
SemiGen is a leading RF/microwave solutions company that provides manufacturing services and products to fill the voids in the supply chain and manufacturing floor. SemiGen's design and manufacturing center includes RF /microwave assembly, PCB, box build, module repair and test services coupled with the semiconductor devices and manufacturing supplies needed for successful products in the RF/Micro wave hybrids and components. Their team helps with designs, builds prototypes, and handles volume production runs for the RF/microwave, military, space, homeland security, optical, medical device, and commercial wireless markets. Their 17,000 square foot facility includes a class 10,000 clean room and offers manual to full automatic assembly for any manufacturing challenge. The company was founded in 2009 and is based in Manchester, NH. For more information, visit http://www.semigen.net
Company Contact:
Jim Morgan
SemiGen,Inc.
603-624-8311
Agency Contact:
Paige Clairmont
Strand Marketing
pclairmont@strandmarketing.com
978-463-0780
More from Machinery & Machining Tools