Release Agent supports aerospace parts manufacturing.
Press Release Summary: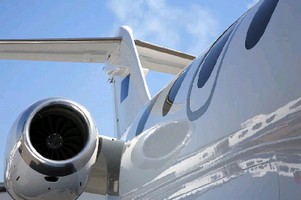 Formulated for composite parts, water-based Mold Release Coating 7569 works effectively with pre-impregnated epoxy carbon fiber technology used in aerospace manufacturing. Product provides smooth, uniform part surface with no evidence of dry spots, and forms barrier on mold, leaving virtually no residue after de-molding. Applied by spraying or wiping, water-thin liquid contains non-silicone parting agents and surfactants for optimal bonding.
---
Original Press Release:

Aerospace Applications Supported with New Water Based Release Agent



Aerospace applications can benefit from Mold Release Coating 7569, a new, water based mold release agent formulated for composite parts now available from Huron Technologies Inc. of Leslie, MI. This product has been specifically tested and validated for use in molding aerospace components. Release Coating 7569 gives excellent performance in manufacturing aerospace components including external panels and structural components. This release agent works effectively with pre-impregnated epoxy carbon fiber technology used in state of the art aerospace manufacturing. When using Release Coating 7569 molded surfaces have a smooth, uniform appearance over the entire surface area. RC 7569 has very low build up on the mold which lengthens the time between cleanings and increases production. Release Coating 7569 is a water thin liquid and can be easily applied by spraying or wiping and also has a short cure time to further enhance productivity.

Benefits of Release Coating 7569
o Smooth uniform part surface with no evidence of dry spots
o Contains non-silicone parting agents and special surfactants to assure excellent bonding
o Forms a tough, uniform barrier on mold and leaves virtually no residue after de-molding
o Water based and environmentally friendly with no VOC's
o Surface tension allows the uncured composite sheet to stay in place during lay-up

Release Coating 7569 is available in 5 gallon pails, 55 gallon drums and 275 gallon totes. Free samples are provided for testing.

Huron Technologies, Inc.
415 Industrial Drive, Leslie, MI 49251
Ph: 517-589-0300, Fax: 517-589-0390
Website: www.hurontech.com
Email: info@hurontech.com
Contact: Linda LaBarre
Marketing Manager
Email: linda.labarre@hurontech.com

More from Controls & Controllers