Relay Test System is designed for power and portability.
Press Release Summary: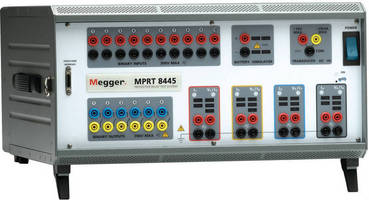 Used to test electromechanical, solid-state, and MPU-based protective relays, MPRT8445 comes in 3-module version providing up to 6 current channels or 4-module version providing up to 8 channels. Automatic protection relay test system features IEC 61850 test capabilities and can be used with third-party or AVTS software. Test sets use constant power output voltage/current modules that can deliver up to 30 A at 200 VA per phase continuously or up to 45 A at 300 VA with 1.5 sec duty cycle.
---
Original Press Release:

Megger's Relay Test System Combines More Power with Less Weight



The new MPRT8445 automatic protection relay test system from Megger combines a wide range of enhancements - including reduced weight, increased output power and current, and IEC 61850 test capabilities - with the open communications architecture for which MPRT-series instruments have always been known. This gives users the flexibility to use the new MPRT8445 with the third-party software of their choice, as well as with Megger's own powerful and intuitive AVTS software.

Capable of testing virtually all types of electromechanical, solid-state and microprocessor-based protective relays, the MPRT8445 is available as a three-module version capable of providing up to six current channels, or a four-module version to provide up to eight current channels. Both versions are significantly lighter than their predecessors, making them easier to handle and transport.

MPRT8445 test sets use Megger's newest constant power output voltage/current modules, which deliver maximum compliance voltage to the load during the test and feature automatic range changing under load. The modules can deliver up to 30 A at 200 VA per phase continuously, or up to 45 A at 300 VA with a 1.5 second duty cycle. Four current amplifiers can be parallel connected to deliver a maximum of 180 A at 1200 VA to test instantaneous overcurrent relays.

The new PowerV high-power voltage amplifiers have significantly higher VA capabilities at the critical low test voltages from 30 to 150 Volts, a feature which is particularly useful when testing panels of relays simultaneously, and when testing older electromechanical relays.

While the MPRT8445 can be used with a PC and suitable software for the full range of manual and automatic testing, its versatility and convenience is further increased by using it with the latest STVI Smart Touch View Interface unit. This is pre-programmed with the characteristics of hundreds of different types of relay and features a large color touch-screen display that provides intuitive navigation. The STVI has automatic ramp, pulse ramp and pulse ramp binary search capabilities, as well as a click-on-fault impedance relay testing facility and an integral report generator.


More from Communication Systems & Equipment