Relay Module takes up little rack space.
Press Release Summary: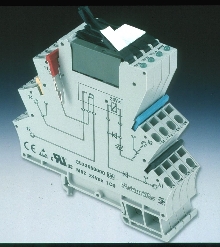 Slim MICROSERIES is less than 1/4 in. wide, requires very little space on TS35 DIN rail, and offers choice of screw or tension clamp connections for wires up to 14 AWG. Module has release mechanism that secures relay safely and reliably on socket base, with eject function for quick release when servicing is required. Relay modules operate on nominal coil voltages of 5, 12, 24, 48, and 60 Vdc, 24, 60, 120 Vac/dc, and 230 Vac. Contact ratings are 6A/240Vac.
---
Original Press Release:
Weidmuller's MICROSERIES Relay Modules Allow Panel Designers and Builders to Think Small

CHICAGO (March 18, 2002) -As panel designs require miniaturization, relay switching modules need to be smaller. Required are relays that take up less expensive panel space and help reduce costs. These requirements include simple relay mounting and removal for maintenance, and necessary marking of the electrical equipment for installation and maintenance. Weidmuller has responded with an innovative solution - the new MICROSERIES relay modules. With a width of only 6.1 mm (less than 1/4 inch), these extremely slim modules require very little space on the TS35 DIN rail and offer a choice of connection technologies and an innovative release and retaining mechanism for quick and easy wiring, mounting, and removal.

Relay modules enable control systems to switch larger loads with lower power control outputs. This also allows higher power loads to be isolated from control outputs.

The MICROSERIES range of relay modules is available with either screw or tension clamp connection technology, giving the user the greatest possible flexibility in wiring. Screw (or clamping yoke) connections are known worldwide, making them ideal for mounting and maintenance in industrial sites around the globe. Tension clamp connections have the proven advantage of reducing wiring installation times - up to 60% less than screw clamp technology. Regardless of which system is used, wires up to 14 AWG can be easily connected.

The MICROSERIES relay modules operate on the input side with nominal coil voltages of 5, 12, 24, 48, and 60 Vdc, 24, 60, 120 Vac/dc, and 230 Vac. Contact ratings are 6A/240Vac.

Another advantage of the MICROSERIES is its innovative retaining and release mechanism. This mechanism secures the relay safely and reliably on the socket base, while the eject function ensures a quick and easy release when servicing is required.

In addition, the retainer and release clip can be fitted with clearly visible markings. Extensive marking options guarantee fast and reliable maintenance and successful troubleshooting.

With the MICROSERIES, both coil connections as well as the contact connections can be cross-connected. Different colored jumpers can be used for clear and quick identification. The pluggable, vibration resistant ZQV 4N jumpers are designed to be touch-safe. Connecting anywhere from 2 to 41 relay connections is accomplished with a single pluggable jumper. This considerably reduces the amount of wiring as well as installation time by eliminating redundant wiring.

Weidmuller, Inc. is the U.S. operation of Germany-based Weidmuller Interface GmbH and Company-the world's leading supplier of electrical connection technology such as terminal blocks, printed circuit board terminals and connectors, relay sockets and plugs, and power supplies. Weidmuller has approximately 3,400 employees worldwide, with 70 sales organizations or offices in more than 60 countries. Weidmuller, Inc. was established in Richmond, Virginia in 1975 and currently employs approximately 130 people in its U.S. operations.


More from Fluid & Gas Flow Equipment