Relay Card transmits data at 1 Mbps up to 33 ft.
Press Release Summary: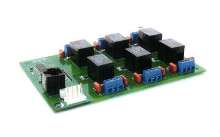 RabbitNet Model RN 1400 consists of 6 SPDT, 10 Aac relays with built-in snubbers. It measures 3.94 x 5.91 x 0.75 and can mount on DIN rail tray. RabbitNet expansion mechanism is based on full-duplex technology, utilizing off-the-shelf Ethernet cables. When used with compatible control device acting as master, RabbitNet products can be used to expand existing system functionality or increase distance from master device to peripheral points.
---
Original Press Release:

Z-World Releases RN1400 Relay Card


Fourth Product in New RabbitNet Expansion Line

Davis, Calif., February 2, 2004 - Z World today announced the release of the RN 1400 relay card, the fourth in a series of RabbitNet expansion products for developing configurable systems using the latest Z-World single-board computers (BL2500 series) and operator interfaces (OP7200 series).

The RN 1400 relay card consists of 6 SPDT 10 A AC relays with built in snubbers for industrial applications. The relay card measures 3.94" x 5.91 " x 0.75" (100 x 150 x 19 mm) and can easily mount on a DIN rail tray. The RN1400 is priced at $73 (qty. 100). A low-cost connectivity kit is available for $18
that contains friction lock connectors for wiring the relay card and other RabbitNet products to Z-World Single Board Computers.

RabbitNet is an expansion mechanism based on full-duplex technology, utilizing low-cost, off-the-shelf Ethernet cables. Data is transmitted at 1 Mbps up to 10M (33 ft.). When used with a compatible Z-World control device acting as a master, any RabbitNet product can be used to expand existing system
functionality or increase the distance from the master device to the peripheral points. The RabbitNet line-up includes Digital I/O card, A/D card, D/A card, and relay card with other expansion products being considered for development. The Digital I/O, A/D, D/A cards are currently available.

The RN1400 relay card is available February 9th, 2004. Contact Z-World at T: 530.757.3737, F: 530.757.3792, E: zworld@zworld.com, or order online at zworld.com.

Z-World
Founded in 1983, Z-World is a global provider of low-cost embedded control products, including single-board computers,
operator interfaces, and core modules with Internet/Ethernet connectivity. In 1989, Z-World launched Dynamic C®, the first
integrated software development system specifically designed for embedded single-board computers. This highly successful
integration of hardware and software substantially reduces development time and cost. In Novcmber 1999, Z-World launched a
new division, Rabbit Semiconductor, a fabless semiconductor company specializing in high-performance microprocessors.
Z-World and Rabbit Semiconductor are located in Davis, Calif. 70 miles east of San Francisco.

More from Test & Measurement