Relative Humidity and Temperature Transmitter can output data as analog signal.
Press Release Summary: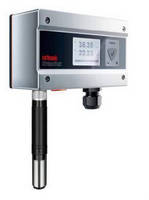 Based on HygroClip2 probe fitted with AirChip3000 technology, HygroFlex5 Series provides compensation of humidity and temperature at 30,000 reference points, recording of 2,000 data points, and calculation of current dew point. If sensor accuracy declines significantly, AirChip3000 recognizes problem and will issue alarm. Available in duct-mounted and wall-mounted versions, transmitters enable any psychometric calculation to be output as analog signal.
---
Original Press Release:

HygroFlex5 - The Intelligent Transmitter from ROTRONIC



The new HygroFlex5-series is the latest development in transmitters for humidity, temperature and dew point from ROTRONIC.

The heart of the new HygroFlex5 is the newly developed HygroClip2, a probe fitted with a sophisticated AirChip3000 technology. Its capabilities speak for themselves: They include the compensation of humidity and temperature at 30,000 reference points, the recording of 2000 data points, and the calculation of the current dew point. This alone makes the AirChip 3000 unique. The AirChip3000 can do even more, including self-diagnostics. If sensor accuracy declines significantly, the AirChip3000 recognises the problem and will issue an alarm. It also combines within itself an ASIC (Application Specific Integrated Circuit), a micro-controller and a non-volatile, electronic memory (EEPROM).

The HygroFlex5 - a wide selection of probes

The new HygroFlex5 series is the latest development in HVAC transmitters for relative humidity, temperature and dew point. Users benefit from its unique product advantages: The analog outputs are freely scalable. One outstanding feature of this innovative product is the possibility to output any psychrometric calculation as an analog signal.
The HygroFlex5 is available as a duct-mounted (use in ventilation ducts) or wall-mounted (use in technical areas) version.

All sorts of different probe types can be connected to the transmitter. Customers can choose, for example, between a standard climate probe (wall or duct mounting), for
The HF5 wall version - the probe can be replaced in seconds

use in the range -40....100° or an industrial probe for process applications. Area of use 0...100 %RH, -100...200 °C and 0...400 bar (0...5800 PSI).

The HygroFlex5 series is ideal for all applications where exact measurement of humidity and temperature is of decisive importance, for example the food and pharmaceutical industries, printing and paper industries, meteorology, agricultural sector, archaeology and climatology. There is hardly a field today in which these parameters may be ignored.

You can find further detailed information about the new HygroFlex5 and all about humidity and temperature measurement at ROTRONIC at www.rotronic-usa.com

ROTRONIC - Your competent partner for all matters relating to all aspects of humidity and temperature measurement.

For 40 years, ROTRONIC has been combining technical innovation with Swiss quality.
The new HygroClip 2, with its integrated AirChip 3000, is setting new standards
in terms of accuracy, operating range and OEM flexibilty.

ROTRONIC sells their products worldwide in 40 countries and has branches in the USA,
Germany, Great Britain, France, Taiwan, Singapore and China.

More from Fluid & Gas Flow Equipment