Rehm Increase Efficiency and Productivity for MELECS for 15 Years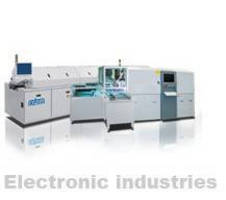 For over 15 years now Rehm reflow soldering systems have been MELECS first choice and have been integrated into the company since 1997. Today all generations of our systems can be found at the company's various sites, from the V6 to our most sought after soldering system the VisionXP.

Why did MELECS chose Rehm?

At the heart of our successful partnership with MELECS is our customer orientated approach, which is further strengthened by the quality of our products. With over twenty years of research and development in convection soldering behind the production of our systems, manufacturers can rest assured that they are tried and tested to produce reliable results.

Key advantages MELECS have benefitted from our partnership include, optimal price and performance ratio, as well as our up to the minute technical know-how, which has allowed us to stand out from our competition. These factors coupled with the success and efficiency of MELECS production lines has resulted in Rehm being their preferred reflow soldering system supplier time and time again.

Here at Rehm we believe investment in a successful partnership with our customers is something we are dedicated to achieving, helping us to provide the most efficient and productive results possible for customers.

Find out more...

If you would like to find out more about how we can support your company with our services and systems, please get in contact with a member of our team today.

Alternatively why not take a look at our website to see our full range of reflow soldering systems.


More from Construction Equipment and Supplies