REGO-FIX to Showcase Innovative Tooling Solutions at PMTS 2017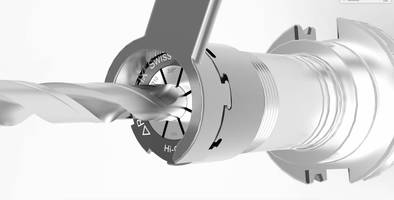 INDIANAPOLIS, Ind., February 16, 2017 - At PMTS 2017 in booth #472, REGO-FIX will highlight tooling technologies that improve operator safety, enhance machine tool coolant capabilities and speed tool changing. The company will feature its new intRlox® MX Mini Nut slip proof clamping system, reCool® Mini, a retrofittable coolant-through system for use on Swiss-style machines, and SwissQuick ER-to-ER adaptors.
For those shops in need of safer tool change outs, the intRlox MX Mini Nuts guarantee wrenches, once properly engaged, will not slip off the ER collet nuts. Unlike standard ER collet nuts, the smaller size intRlox nuts feature a patented anti-slip design that uses rounded locking grooves situated around the nut profiles as opposed to end face surfaces. Wrenches grip from the sides of the nuts, and the action of tightening or loosening temporarily locks wrenches in place.
The intRlox system replaces other brands of older-style mini-nuts. It is currently available in ER 8, 11, 16, 20 and 25 sizes as standard versions and in ER 16, 20 and 25 for coolant versions. To make it easier for shops to exchange their existing Swiss machine tooling to this much safer system, REGO-FIX has designed new easy-to-use nut and wrench sets for the intRlox system that the company will display at PMTS.
As a complement to REGO-FIX's reCool system for water- and oil-based coolants, the company's new reCool Mini is especially suited for use in Swiss-style turning machine operations where fine-threaded nuts are more prominent. Like its companion system, the reCool Mini converts existing live turret tooling with ERM mini threads to include through-coolant capabilities in as little as two minutes. The system gets coolant to the cutting edge much more effectively than do spray pipes or nozzles, and thus easily removes heat from the cutting zone and contributes to better surface finishes, longer tool life, improved chip control and increased productivity.
Visitors to REGO-FIX's booth at PMTS will also discover the benefits of SwissQuick ER-to-ER adapters that allow users to preset tooling offline and replace worn tools in seconds, thereby reducing downtime and increasing productivity on Swiss-style machines. These short "miniature" toolholders feature a larger solid ER body on the back end that remains in the machine and a smaller ER series cavity in front that allows for the shortest, most rigid ER-to-ER reduction available. This design makes them ideal for automation and lights-out operations because the need to touch off the tools after a routine change is eliminated.
PMTS 2017 will be held April 25-27, 2017 at the Greater Columbus Convention Center in Columbus, Ohio.
About REGO-FIX
With U.S. headquarters in Indianapolis, Indiana, REGO-FIX, inventor of the original ER collet system, is a world leader in the manufacture of Swiss precision tooling. For more information on REGO-FIX, its products and services, or to request a catalog, please call 1.800.REGO-FIX or visit the company's website at www.rego-fix.com.
More from Test & Measurement