Regenerative Thermal Oxidizers include prefiltration systems.
Press Release Summary: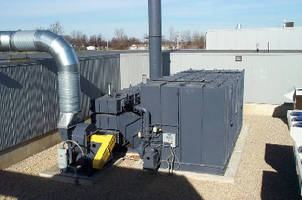 Provided in skid-mounted, prepiped and wired modules, Flameless RETOX Regenerative Thermal Oxidizers feature flow rates from 1,000-80,000 cfm and are suited for dust and particulate laden VOC processes. Units provide 99% VOC abatement with dual chamber, corrosion-resistant ceramic heat exchanger rated up to 97% effective for primary heat recovery. Flameless natural gas injection operation does not generate any NOx byproducts during VOC combustion and oxidation process.
---
Original Press Release:

Adwest Technologies, Inc Retox RTO Regenerative Thermal Oxidizers with Pre-Filtration for Cost Effective VOC Abatement



Adwest Technologies, Inc. provides cost effective VOC control solutions with Flameless RETOX dual Chamber Regenerative Thermal Oxidizers (RTO) with pre-filtration systems for dust and particulate laden VOC processes including pharmaceutical, paint finishing, chemical processing, pulp & paper processing, bio-pharma, oil & gas processing, hydrocarbon processing, food processing, composites, web converting & coating and styrene air toxics off gas applications. Adwest's FLAMELESS operation RETOX Dual Chamber Regenerative Thermal Oxidizer (RTO) systems provide proven 99% VOC Abatement with a low pressure drop dual chamber corrosion resistant ceramic heat exchanger rated up to 97% effective primary heat recovery for extremely low RTO system energy and operation costs. RETOX RTO and pre-filtration systems are provided in compact, skid mounted, prepiped and wired modules which are available from 1,000 to 80,000 Cfm flowrates.. Prefilters are selected for each specific RTO Oxidizer application to minimize any partuclate buidup prior to the oxidizer system. Adwest's high level of RTO fabrication shop assembly in our Anaheim dedicated RTO shop provide rapid RTO Oxidizer field installation at client's facilities for expedited VOC compliance schedules..

Adwest's unique FLAMELESS NOx-Free RETOX RTO NGI (natural gas injection) operation provides 40-65% less natural gas usage compared to traditional burner and combustion air blower thermal oxidizer operation. Flameless NGI operation does not generate any Nitrous Oxide (NOx) byproducts during the VOC combustion and oxidation process which provides a NOx-Free minimal carbon footprint for cost effective VOC Abatement. The RETOX RTO Oxidizer ultra low energy usage also does not require periodic carbon or catalyst replacement and maintenance which further lowers the life cycle total cost of RTO Oxidizer abatement.

Adwest Technologies, Inc. is a specialized and focused Regenerative Thermal Oxidizer supplier headquartered in Anaheim, CA with over 800 Flameless operation RETOX RTO systems installed worldwide since 1988. Adwest has extensive RTO oxidizer, prefiltration and acid gas scrubber design and application experience on particulate and corrosive acid gas and halogenated VOC process stream environments.

Contact Adwest Technologies, your specialized RTO Oxidizer specialists today!-Anaheim, CA Tel #714/632-9801 or East Coast office # 585/593-1405, e-mail adwestny@roadrunner.com

For more information contact: ADWEST RETOX RTO WEBSITE: www.adwestusa.com

Mr. Brian Cannon, Vice President Sales & Marketing Tel #585/593-1405

More from Electrical Equipment & Systems