Regenerative Blower features closed-loop control.
Press Release Summary: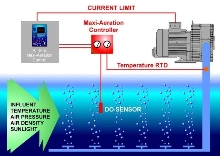 Maxi-Aeration DO System optimizes aeration process by maintaining set-point dissolved oxygen rate in aeration basins. VFD continuously monitors DO levels to provide optimum oxygen level for bacterial growth. Unit is rated for applications up to 1,450 scfm, 11.5 psi, and 150 hp.
---
Original Press Release:
Maxi-Aeration Regenerative Blowers

All-Star Products has announced the Maxi-Aeration DO Controller designed for optimizing an aeration process through a closed-loop control of the aeration process by automatically maintaining a set-point DO rate in aeration basins.

Economical All-Star regenerative blowers and VFDs allow small aeration sites to lower their operating costs while improving the efficiency of their aeration process. By continuously changing the speed of the blower to increase or decrease the air flow into the aeration basins, power costs are reduced by as much as 50% and microbe efficiency is improved up to 25%. Using a VFD eliminates the need fixed V-belt packaged blowers for controlling air flow by cycling blowers on and off or by using butterfly valves to dump the excess air to the environment.

The Maxi-Aeration is available on new as well as retrofit applications up to 1450 scfm, 11.5 psi rated to 150 horsepower.

For more information, please contact All-Star Products or visit www.all-star-usa.com

All-Star Products Inc

http://www.all-star-usa.com

2095 Exeter Rd Ste 80-34

Memphis, Tennessee 38138

800-431-8258 901-755-9613
edwardb@all-star-usa.com
More from Laboratory and Research Supplies and Equipment