Regenerative AC Load Bank reduces energy expense by 90%.
Press Release Summary: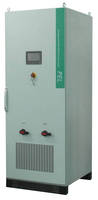 Built around 60 kVA chassis, PEL Series simulates range of test capabilities and supports parallel use to meet requirements of higher-power applications. Series also accepts standard AC input ranges from 120–480 V and provides grid-synchronized, regenerated AC power output that returns 90% of equipment under test load power back to utility. Load settings modes include constant current, constant resistance, and constant power, and power factor is adjustable from 0.3–1.0.
---
Original Press Release:

Intepro's Regenerative AC Load Bank Reduces Energy Costs by 90%



New PEL Series 60 kVA electronic load can simulate wide range of test capabilities including load sequence transient generation, power factor and phase control; can be paralleled for higher-power applications; returns over 90% of load test power to the utility grid



Intepro Systems, a market leader in power component and power system automated test equipment (ATE), announces the introduction of the PEL Regenerative AC Electronic Load Bank.  Built around a 60 kVA chassis, the system can be paralleled for higher power requirements. It also accepts standard AC input ranges from 120 to 480V and provides grid-synchronized, regenerated AC power output that returns 90% of the equipment under test (EUT) load power back to the utility. The PEL Series provides an energy-saving solution when testing any type of power used in a wide range of industries, including automotive, aerospace, medical, battery and green energy.



The PEL Series features three modes of load settings: constant current, constant resistance and constant power. It also provides adjustable power factor from 0.3 to 1.0 to simulate a range of load conditions as well as independent phase control and a built-in measurement system. The PEL Series also offers load sequence transient generation for creating complex, variable and repeatable load conditions.



"Rising energy prices makes energy conservation a major concern for companies that are continually searching for ways to reduce costs," said Gerard Sheehan, Intepro's Chief Technical Officer. "With its full range of test capabilities and its ability to regenerate 90% of load power to the utility grid, our new PEL Regenerative AC Electronic Load Bank sets new standards for loading power devices."



For more information about this product, please download the PEL Series data sheet. For more information about this or any other Intepro product, visit the Intepro Systems website at: www.inteproATE.com or email sales@inteproate.com.



About Intepro Systems

Since 1981 Intepro has supplied users and manufacturers all over the world ATE systems and instruments to test power electronics used in a wide range of applications. The company has knowledge and expertise in moving and measuring power makes its systems unparalleled for production testing, ESS screening, repair and characterization of power components and sub-assemblies used across all industries.



Intepro Systems also offers a variety of power supplies and electronic loads to its customers. Intepro Systems has partnered with Preen to provide AC sources and AC loads as its own and partners DC electronic loads to help solve many power testing needs.

Intepro Systems instrumentation and systems test and validate power supply systems and components used in aerospace, military, telecommunications, and other power electronics applications. Leaders in power supply testing; the company has a global reach with direct sales offices in the U.K., Ireland, China and the USA, and distributors covering the rest of the world.



Contact:

INTEPRO UK Ltd.

9 Lakeside Business Park

Swan Lane, Sandhurst

Berkshire, GU47 9DN

T: +44 (0)1252 875600

E:  sales@inteproate.com

W: www.inteproate.com



Proactive Marketing & Communications Ltd

37 Ramsdell Rd

Fleet, GU51 1DD

T: +44 (0)1252 642444

F: +44 (0)1252 676544

E: john@proactive.uk.com

W: www.proactive.uk.com

Related