Laser Maintenance and Repair Services
Refurbishing Service modernizes UV Excimer lasers.
Press Release Summary: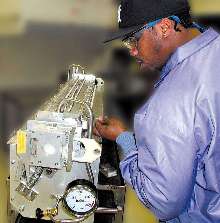 Ultraviolet laser refurbishment service can target complete laser or modules such as tubes, valve banks, vacuum systems, and pulse forming networks. Service provides upgrades and modifications, using cleanroom facility to assemble laser tubes and ceramics manufacturing capabilities to make replacement parts. Refurbished lasers are leak-checked for 24 hr and burned in for 24-48 hr. Final test report documents gas lifetime, power, energy, and beam quality.
---
Original Press Release:

JPSA Laser Announces Laser Refurbishment Services


Hollis, New Hampshire, USA - JPSA Laser announces the availability of UV laser refurbishment services for UV Excimer lasers. Refurbishing lasers saves customers money, since the cost to replace sophisticated UV lasers can be quite high. Additionally, JPSA's refurbished lasers perform better than the product's original factory specifications through upgrades, modifications, and better quality parts and designs used in the refurbishment engineering process.

"We can refurbish the complete laser if needed," says Jeffrey P. Sercel, President. "Our refurbishment includes everything that can go wrong with the laser, so the result is that the entire laser is like new. We also refurbish and replace modules such as tubes, valve banks, vacuum systems, pulse forming networks, and more. JPSA stocks many different types of electrodes and top quality parts. We have a cleanroom facility to assemble laser tubes and we have ceramics manufacturing capabilities to make replacement parts. "Turnaround time for laser systems can vary based upon the extent of the refurbishment and the number of available in-stock parts. For example, tubes for some models are in stock for JIT tube exchanges. Refurbished lasers are leak-checked for 24 hours and burned in for 24 to 48 hours, over the course of a week in final test. A laser final test report is documented. Gas lifetime, power, energy and beam quality are verified.

JPSA builds UV laser systems and operates a laser job shop performing micro-machining operations and a variety of other applications in electronics packaging, medical, semiconductor, and other industries. As a result, according to Sercel, "Our in-depth knowledge of the excimer laser physics and production requirements needed to support our high-duty-cycle customers allows us to see the 'real world' results of our refurbishments. Our refurbished lasers consistently see as good or better than original factory specs." He adds, "We stock OEM parts and also make our own. We modify lasers to achieve better performance. JPSA has a strong laser engineering department that's staffed with experienced excimer laser engineers and scientists so we know how to design them; we're much more than a refurb facilty."

Depending on customer requirements, lasers can be modified to meet expanding production needs. "We modify lasers for better pulse-to-pulse, average power and better beam quality." Sercel says. "We have modified lasers for more than double the standard performance in certain cases. We go through every detail to make sure that the systems are better than original and will last as long as a new laser."

JPSA designs specialized versions of components and makes special electrodes, PFN's, and more. JPSA supplies its own resonators and fast-change optics mounts. JPSA upgrades/modernizes older lasers to newer standards, and supports otherwise obsolete lasers. JPSA will buy and trade-in older lasers for newer model upgrades. JPSA stocks select-grade optics and provides modern state-of-the-art beam delivery systems for users of older lasers, thus creating a 'total system' approach.

JPSA develops and deploys advanced excimer and UV-DPSS laser micro-machining solutions at 157nm to 355nm wavelengths. JPSA products and services include UV excimer and DPSS laser micro machining systems, UV and VUV laser beam delivery systems, UV laser materials processing development, optical damage testing, and excimer laser refurbishment services. JPSA Laser operates a high-performance UV laser job shop as well as a systems engineering and manufacturing business. For more information, visit www.jpsalaser.com, or contact the company at 17D Clinton Drive, Hollis, NH 03049 USA, Tel. 603.595.7048, fax 603.598.3835. E-mail: jsercel@jpsalaser.com.

More from Architectural & Civil Engineering Products