Refurbished/Replacement TCDs are available for legacy Varian GCs.
Press Release Summary: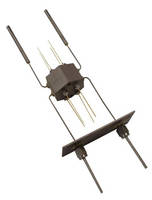 Refurbished or replacement thermal conductivity detectors (TCDs) are available for Bruker (Varian) gas chromatographs (GCs). Each detector, made of stainless steel and supplied with rhenium-tungsten (WX) filaments as standard, meets original equipment specifications and comes ready to install in legacy Varian GC. Special filaments for reactive samples are available. Corrosion-resistant detectors utilizing nickel, Monel®, titanium or gold-plated thermal conductivity blocks are also offered.
---
Original Press Release:

GOW-MAC® Instrument Co. Refurbishes or Provides Replacement Thermal Conductivity Detectors (TCDs)



Important information for Bruker (Varian) TCD GC owners



Bethlehem, Penn — GOW-MAC® Instrument Co. refurbishes or provides replacement thermal conductivity detectors (TCDs) for Bruker, formerly Varian Chromatography, gas chromatographs (GCs), at substantial cost savings. Each detector meets original equipment specifications and comes ready to install in your legacy Varian GC. Rebuilding includes thoroughly dismantling, cleaning internal channels and tubing, installing new filaments, leak checking, and testing to ensure noise and drift meet original specifications.  The detector is made of stainless steel and comes with rhenium-tungsten (WX) filaments as standard. Special filaments for reactive samples are available upon request. Corrosion resistant detectors utilizing nickel, Monel®, titanium or gold-plated thermal conductivity blocks are also offered.



In addition to Bruker, GOW-MAC provides replacement TCDs for other major brand gas chromatographs on the market today, including many older instruments. GOW-MAC is a leading manufacturer of gas analysis instrumentation and long known for their expertise in, and manufacturing of, thermal conductivity detectors. Customers may visit http://www.gow-mac.com or contact GOW-MAC Instrument Co. at (610) 954-9000 to determine if replacement filaments or a detector is available for their TCD/GC.



About GOW-MAC Instrument Co.

Founded in 1935, GOW-MAC® Instrument Co. is a leading manufacturer of high performance gas analysis analytical instruments engineered for anyone involved with the detection, analysis, production, or supply of gases within the global industrial, medical and specialty gases industries. Our GCs and gas analyzer packages are also used throughout the world by a wide variety of customers for user-specified applications in chemical analysis, industrial gas, laboratory, and educational applications.



Contacts:

Technical: Kenneth Fincke

Vice President, Sales & Marketing

Tel: (610) 954-9000 x 239

Email: kbfincke@gow-mac.com



Media: Gail Johnson

Marketing Communications Mgr.

Tel: (610) 954-9000 x249

Email: gsjohnson@gow-mac.com

Website: www.gow-mac.com

More from Packaging Products & Equipment