Refurbished Olympus AU400 Chemistry Analyzers for Sale at Block Scientific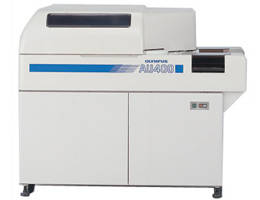 Purchase of the refurbished Olympus AU400 from Block Scientific's online store is a great option for labs with budget constraints.
The Olympus AU400 is a fully automated chemistry analyzer for routine, STAT, urine and homogenous immunoassays. Block Scientific, a reliable lab equipment supplier in New York, is offering the AU400 refurbished at a price much lower than new. The device is refurbished the original manufacturer specifications and comes with 90 days parts warranty.
The AU400 analyzer can be used in single or multiple locations and is designed to meet the requirements of hospitals, core and commercial laboratories. It offers a broad test menu that includes homogeneous immunoassays for protein analytes such as apolipoproteins, immunoglobulin, complement components, and more. The device allows 800 tests per hour and allows for efficient inventory management. Its standardization design offers benefits such as increased productivity, reduced operating costs, and fast, reliable results.
In addition to supplying this analyzer refurbished, Block Scientific also offers it for lease at a monthly rate with installation, training, delivery and a certain reagent credit. Other Olympus analyzers available at this online store include the AU680 and AU480. Reagents, controls, and consumables and service contracts may also be available.
Purchase of laboratory equipment from this reliable dealer comes with many benefits including excellent after-sales service, including training and maintenance support. Labs can also opt for reagent rental plans as an alternative to equipment purchase.
About Block Scientific
An established global supplier of laboratory equipment based in New York, Block Scientific offers a wide variety of laboratory equipment such as analyzers, microscopes, co-oximeters, incubators, centrifuges, balances, and much more. Visit www.blockscientificstore.com to learn more about the company's products, services and special offers.
Contact Information
22 Sawgrass Drive
Bellport NY 11713 USA
Tel: 1-866-203-5777 (toll free)
Tel: 631-589-1118
Fax: 631-589-4088
Email: info@blockscientific.com