Refrigerator Cryostat offers alternative to liquid helium.
Press Release Summary: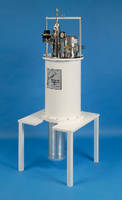 Operating continuously from 1.5–300 K, Model PTSHI-950-LT 1.5 K offers cryogen-free, turnkey alternative to liquid helium. Top-loading, closed-cycle system features pushbutton sample temperature adjustment and 50.8 ID sample chamber. Capable of achieving 1.5 K in less than 8 hours, system can locate sample in either static exchange gas or vacuum. Applications include neutron scattering, electrical transport measurements, magnetic measurements, optical spectroscopy, and spintronics.
---
Original Press Release:

1.5 K Continuous Closed Cycle Refrigerator Cryostat Turnkey Alternative to Liquid Helium



A new, low vibration pulse tube cryocooler that achieves liquid helium performance utilizing cryogen-free technology and a closed-loop system is being introduced by Janis Research Co., LLC. of Woburn, Massachusetts, USA.



The Janis Model PTSHI-950-LT 1.5 K Continuous Closed Cycle Refrigerator Cryostat operates continuously from 1.5 K to 300 K (450 K optional) and is a cryogen-free, turnkey alternative to liquid helium.  Featuring pushbutton operation including sample temperature adjustment, this top loading refrigerator can locate a sample in either static exchange gas or vacuum, and users can easily change it while the system is operating.



Capable of achieving 1.5 K in < 8 hours, the Janis Model PTSHI-950-LT 1.5 K Continuous Closed Cycle Refrigerator Cryostat has a 50.8 mm I.D. sample chamber (optional to 100 mm) and can be designed to customer specifications.  Applications include neutron scattering, electrical transport measurements, magnetic measurements, optical spectroscopy, and spintronics.



The Janis Model PTSHI-950-LT 1.5 K Continuous Closed Cycle Refrigerator Cryostat is priced from (USD) $120,000.00, depending upon configuration.



For more information contact:

Janis Research Co., LLC.

Ann M. Carroll, Marketing Specialist

225 Wildwood Ave.

Woburn, MA 01801  USA

(781) 491-0888  FAX (781) 491-0889

e-mail: acarroll@janis.com

www.janis.com