Refrigeration Sealants seal undetectable or micro leaks.
Press Release Summary: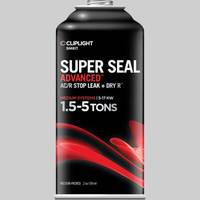 Injected into moisture-free system, Super Seal particle-free formula flows freely without affecting valve cores, driers, compressors, or other components. Once product and refrigerant leak out hole 300 microns or smaller, chemical reaction crystallizes it around hole during exposure to atmospheric moisture and then forms seal. Versions are available for 5 ton systems and larger, residential systems from 1½-5 tons, and small systems from 230-18,000 BTU/hr or max 1½ tons.
---
Original Press Release:
HVAC Industry's First One-Step Refrigeration System Leak Sealant is Introduced By Cliplight.
Three-product line features custom formulas for everything from appliances to residential a/c units and large multi-ton chillers. Wednesday, January 11, 2006 TORONTO-Cliplight Mfg., a leading HVAC/R aftermarket accessory manufacturer, has introduced Super Seal(TM) the industry's first one-step refrigeration sealant product line featuring three custom formulas for systems ranging from small refrigeration appliances up to residential central a/c units and large multiple ton chillers. Super Seal is designed to seal undetectable or inaccessible micro leaks in condensers, evaporators and piping from the inside out. Injection is a one-step process of drawing the system refrigerant into the Super Seal vacuum-packed can for mixing and dispensing the sealant throughout the system thus eliminating compatibility considerations. Super Seal is compatible with all refrigerants and oils. After conventional leak detection attempts prove unsuccessful, Super Seal is injected into a system that is clean and moisture-free. Super Seal's patented low viscosity, particle-free formula is designed to flow freely throughout the system without affecting valve cores, driers, compressors or other components. Once Super Seal and the refrigerant leak out a hole of 300 microns or smaller, a chemical reaction crystallizes it around the hole during exposure to atmospheric moisture, and then forms a seal. Super Seal's three products are: o Super Seal 3-PHASE(TM) commercial and industrial strength formula for 5-tone systems and larger; o Super Seal HVACR(TM) for most residential a/c systems 1-1/2 tons to 5 tons; o Super Seal ACR(TM) is designed for small air conditioning and refrigeration systems ranging from 230-btuh up to 18,000-btuh or maximum 1-1/2 tons. Each Super Seal product comes with a disposable charging hose, easy step-by-step instructions, and is easily reclaimed and separated in the refrigerant recycling/cleaning process. For more information on Cliplight, an ISO 9001:2000 certified manufacturer and its HVAC and refrigeration products, please email hvacr@cliplight.com, call 1-866-548-3644 or visit www.cliplight.com. Contact: Linda Appler Cliplight Mfg. Co. 866-548-3644 hvacr@cliplight.com
More from Machinery & Machining Tools