Refrigeration Compression Oil has semi-synthetic formula.
Press Release Summary: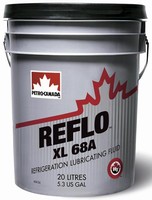 REFLO XL Synthetic Blend helps extend fluid life, reduce wear, and extend drain intervals in ammonia refrigeration systems. Formulated to reduce seal swelling while promoting viscosity and performance in colder parts of system, lubricant can be removed from systems at temperatures as low as -31°F. PDSC testing (500 psi O2 at 356°F) proves its stability capabilities (73 min), and formulation exhibits scar diameter of 0.65 mm during 4 Ball Wear Test (40 kg load).
---
Original Press Release:

Petro-Canada Launches REFLO(TM) XL Synthetic Blend Refrigeration Lubricating Fluid



Mississauga, Ontario Canada - October 1, 2008: Petro-Canada has announced the launch of REFLO XL Synthetic Blend - a new addition to their premium line of refrigeration compressor oils. The product, a high performance semi-synthetic, is ideally suited for operators who want to extend fluid life, reduce wear and extend drain intervals in ammonia refrigeration systems. It's specially formulated to reduce seal swelling, deliver improved viscosity and perform in colder parts of the system. REFLO XL joins Petro-Canada's robust line of refrigeration compressor oils, which includes REFLO A, REFLO Synthetic and REFLO CFC.

"Petro-Canada takes pride in providing customers with lubricant solutions," said Colleen Flanagan, Category Manager, Specialty Fluids, Petro-Canada. "We developed REFLO XL after identifying a need for a semi-synthetic lubricant for ammonia refrigeration systems - one that would include an antiwear package and a seal swell conditioner, while continuing to deliver extended fluid life. REFLO XL fulfills that need with its unique formulation. It performed extraordinarily well in testing and we are confident that it will outperform most, if not all, of the competitive products currently available in the marketplace."

Petro-Canada adheres to a rigorous testing discipline to ensure new products perform in the application and environment they're made for. REFLO XL has been in development for two years and has undergone comprehensive testing.

PDSC testing (500 psi O2 at 180°C/356°F) proved the product's excellent stability capabilities - 73 minutes - compared to Group II products which ranged from 4 to 25 minutes. In the IP-48 stability test (24 hours at 150°C/302°F) the product was among the best at controlling viscosity and TAN increase. During the 4 Ball Wear Test (40kg load), the advanced formulation of the product was quite evident as its scar diameter was much lower than the other competitive oils (0.65mm vs. 0.8 and higher).

Testing also confirmed REFLO XL's low temperature fluidity. During Brookfield Viscosity Benchmark Testing, the product was compared to a number of synthetic and non-synthetic oils. Results demonstrated the product's low temperature fluidity properties: should REFLO XL get carried into cold sections of the system the product is better able to flow to traps and separators where it can be removed from the systems at temperatures as low as -35°C/-31°F. The product also recorded the lowest pour point versus the competitive Group II products tested.

"REFLO XL is an important addition to our line of refrigeration compressor oils," said Flanagan. "We're confident REFLO XL will contribute to our customers' total cost savings."

About Petro-Canada
Petro-Canada blends and packages more than 350 different lubricants, specialty fluids and greases that are exported to more than 60 countries on six continents. Products are manufactured from 99.9% pure base oils - among the purest in the world. As the world's largest producer of white oils and the leading supplier of factory fill automatic transmission fluids, Petro-Canada is focused on going beyond today's standards. With more than 30 years of experience in blending Groups II and III base oils, the company delivers a diverse line of innovative lubricants to meet an ever increasing range of international specifications. Petro-Canada specializes in offering customers products and services proven to increase productivity and lower operating costs, lubrication consolidation, technical leadership and training.

For more information on products and services, please call 1-800-268-5850 (English Canada), 1-800-576 1686 (French Canada), 1-888-284-4572 (United States), 44 2476 247294 (Europe), or visit lubricants.petro-canada.ca (TSE: PCA, NYSE: PCZ).

Petro-Canada Lubricants:
o Agricultural Sprays o Automotive & Heavy Duty Lubricants o Base Oils o Electrical Transformer Fluids o Food Grade Lubricants o Gear Oils o Greases o Heat Transfer Fluids o Hydraulic Fluids o Natural Gas Engine Oils o Specialty Fluids o White Mineral Oils o

More from Controls & Controllers