Refrigerated Air Dryers filter compressed air.
Press Release Summary: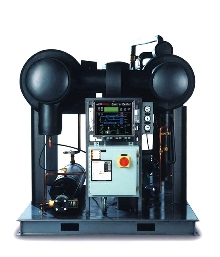 Magnum SC and CT Series remove water and water vapor from compressed air. CT has multi-stage separator-coalescing filter installed after chiller to remove oil, water, and particulate contaminants. Both have Smart Cycle® demand control system and control center with flow schematics and digital telemetry for remote analysis of dryer performance. Dryers are available in 10 models from 2,500 to 18,000 scfm. Both can be built for flow rates up to 50,000 scfm.
---
Original Press Release:

Airtek Offer Magnum Series Dual Mode, Large-Capacity Refrigerated Air Dryers with Enhanced Control Center


(May 2002) - An enhanced electronic Control Center featuring "Auto" mode, flow schematics, and digital telemetry for remote analysis of dryer performance is now standard equipment on all Magnum Series dual mode, large-capacity refrigerated air dryers, according to the manufacturer, Airtek of Lancaster, New York. Magnum Series air dryers are designed to remove water and water vapor from compressed air by reducing the temperature to a consistent 33° to 39°F. The Magnum SC Series features the company's patented Smart Cycle® demand control system and is available in ten standard models with capacities from 2500 SCFM to 18000 SCFM.

The Magnum CT Series is available in the same size range, and also includes a multi-stage separator-coalescing filter installed after the chiller. CT Series models will remove oil, water and particulate contaminants for cleaner, dryer air, Airtek states, with the capability of removing up to 100 times more oil than filters operating at higher inlet temperatures. At 35°F, more oil vapors are condensed and filtered. Coalescers cannot remove oil in vapor form. The multi-stage filter used in this Cold Trap® design removes bulk contaminants in the first stage and aerosols in the second. Since the bulk contaminants are drained out of the system, they do not get into the filter element. This design results in significant reduction of system pressure drop. Both the SC and CT Magnum Series can be built for flow rates up to 50,000 SCFM.

The Magnum Series is controlled by the patented Smart Cycle system and is designed to provide optimum dew point performance while reducing energy consumption, according to Airtek. Smart Cycle automatically adjusts the operation of the dryer in response to inlet conditions. A patented, quick-responding temperature sensor monitors the compressed air temperature in the chiller, shutting off the compressor when the air is cold enough, and turning it back on when the temperature rises to the pre-set point (e.g. 39°F), making Magnum a true "cycling dryer," Airtek states. Energy consumption is directly matched to the inlet load. This is known as "Thermal Banking," one of two dual-mode choices available with the Magnum Series. A second mode places the dryer in the "Load and Un-Load" method of operation. When the low air temperature set point is reached, the controller will open an unloader valve on the refrigeration compressor, allowing it to run in an idling state until the air temperature again reaches 39°F. The valve then closes and the compressor goes into normal operating mode.

Airtek says that when running unloaded, energy savings of 50% are achieved. When in the Thermal Bank Mode, no energy is consumed while the compressor is off, resulting in the user also realizing the lowest dew point, hence driest compressed air. Using the enhanced control center, the operator may select and change modes any time during operation of the dryer. Distinctive flow schematics with active indicators, constant display of dew point temperature provide "at-a-glance" information about dryer operations. Detailed performance data regarding every nuance of the dryer can be studied using easy-to-navigate menus called up on the control center, according to Airtek. A flashing alarm in the flow schematic in the source area indicates if any parameter runs outside a normal value. The LCD display states further details. The control center also includes a communications port for installation of StarWatch(TM), the company's remote monitoring and analysis service.

According to Airtek, the performance and reliability of its patented electronic control design is faster, more precise, and more reliable than mechanically-controlled dryers. In addition, Airtek does not incorporate a hot gas bypass valve, a device that sends hot refrigerant gas into the chiller to prevent freezing when the load on the unit is less than 100%. As a result, when the evaporator temperature rises, so does the dew point. Dryers of this type will run constantly, due to this "false load," consuming energy needlessly. In the Airtek dryer, the compressor either shuts off or unloads when the temperature of the chiller dictates. Energy savings does not equate in loss of performance the company says.

A patented "flood level control" device allows enhances performance by allowing for the use of a fully flooded evaporator/chiller, according to Airtek. The effluent compressed air can be made much colder with this design, and there is no possibility of flooding the compressor with liquid refrigerant since it is "flashed off" in the flood level control exchanger, through which hot refrigerant gas from the compressor discharge is routed.

Standard Magnum Series features include non-fouling shell and tube heat exchangers, exclusive grooved tube sheets to prevent leaking, and patented features such as the Smart Cycle control system, flood level control, and air temperature probe.

For a free 20-page product bulletin or additional information, contact Airtek, 4087 Walden Avenue, Lancaster, NY 14086. Phone: 716-685-4040. Fax: 716-685-1010. E-mail: airtek@airtek.com. URL: www.airtek.com.

More from Electronic Components & Devices