Refractory Coating handles high temperatures up to 3,200°F.
Press Release Summary: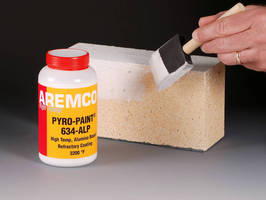 Single part, water-dispersible, phosphate-bonded, and alumina-filled system, Pyro-Paint(TM) 634-ALP ceramic-based sealant is used to fill micro-porosity in dense refractory brick used in high temperature kilns and furnaces. Coating is inert, chemically resistant, inorganic, and does not outgas or decompose in corrosive applications to 3,200ºF. Available in pint, quart, gallon, and 5 gal drums, coating can be applied by brush, dip, or pneumatic sprayers, and cures fully in 1-2 hr at 700°F.
---
Original Press Release:

Pyro-Paint 634-ALP New High Temp Refractory Coating Now Available



SUMMARY

Pyro-Paint(TM) 634-ALP, a new high temperature ceramic coating manufactured by Aremco Products, Inc., is now used to insulate and seal dense refractory brick used in high temperature kilns and furnaces to 3200 °F(1760 °C).

FEATURES

Pyro-Paint(TM) 634-ALP is a new high temperature, ceramic-based sealant used to fill the micro-porosity in dense refractory brick to improve the reliability of the brick and protect the metal shell from corrosion.

Pyro-Paint(TM) 634-ALP is a single part, water-dispersible, phosphate-bonded, alumina-filled system. It is an inert, chemically resistant, inorganic material that will not outgas or decompose in high temperature corrosive applications to 3200 ºF (1760 ºC).

Pyro-Paint(TM) 634-ALP is applied easily by brush, dip, or pneumatic spray equipment. Upon application it can be cured in-situ and ramped rapidly to elevated temperatures. A full cure is achieved after exposure for 1-2 hours at 700 °F. Pyro-Paint(TM) 634-ALP further sinters and strengthens as it is exposed to temperatures above 1000 °F.

Pyro-Paint(TM) 634-ALP is available from stock in pint, quart, gallon and five-gallon drums. Please contact Aremco's Technical Sales Department for more information about this advanced new high temperature sealant.

AREMCO PRODUCTS, INC.

P.O. Box 517, 707-B Executive Blvd.

Valley Cottage, NY 10989

WEBSITE:www.aremco.com

E-MAIL: aremco@aremco.com


More from Paints & Coatings