Refractometer provides digital refractive index readings.
Press Release Summary: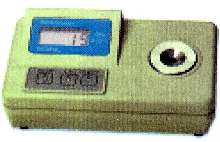 Portable, battery-operated digital refractometer with digital display and splash-resistant housing provides accurate readings of sugar concentrations (Brix) or refractive index in plant, field, or lab. HR200 refractometer is available in 4 models with different measurement ranges - 0 to 36%(1.3330 to 1.3903 nD), 0 to 45%(1.3330 to 1.4098 nD), 28 to 65%(1.3800 to 1.4535 nD) and 60 to 92%(1.4400 to 1.5230 nD) with an accuracy of ±0.2%.
---
Original Press Release:
Low-Cost, Digital Brix Refractometer

Portable, battery-operated digital refractometer provides accurate readings of sugar concentrations (Brix) or refractive index in the plant, field or lab. The HR200 refractometer is available in 4 models with different measurement ranges - 0 to 36%(1.3330 to 1.3903 nD), 0 to 45%(1.3330 to 1.4098 nD), 28 to 65%(1.3800 to 1.4535 nD) and 60 to 92%(1.4400 to 1.5230 nD) with an accuracy of ±0.2%. Digital display simplifies readings for consistent application. Ideal for quality control and preventative maintenance applications. Splash-resistant housing.

APT Instruments, P.O. Box 345, Litchfield, IL 62056,

877.324.5444, 217.324.5444, FAX 217.324.3858
Sales@aptinstruments.com, www.aptinstruments.com


More from Electronic Components & Devices