Reflective Paints use glass microsphere technology.
Press Release Summary: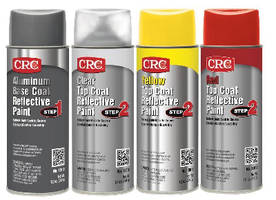 Featuring water-based polyurethane resin, fade-resistant pigments, and reflective glass spheres, CRC Reflective Spray Paints and Reflective Mining Paints are used to mark hazards or objects which need to be located in low-light or dark areas, such as fire hydrants, safety equipment, guard rails, electrical switch boxes, gas meters, and boat piers. Supplied in 16 oz and 20 oz aerosol cans, respectively, spray paints and mining paints must be applied over aluminum base coat for effectiveness.
---
Original Press Release:

CRC Reflective Spray Paints and Reflective Mining Paints



Warminster, PA – CRC introduces Reflective Spray Paints and Reflective Mining Paints formulated using glass microsphere technology. The water based polyurethane resin, extremely fade resistant pigments and reflective glass spheres ensure years of bright reflection.



CRC Reflective Spray Paints and Reflective Mining Paints are used to mark hazards or objects which need to be located in low-light or dark areas: fire hydrants, industrial equipment, safety equipment, guard rails, electrical switch boxes, gas meters, boat piers, and docking buoys. They reflect brightly back to the source of light using a flashlight or headlights. CRC's reflective paints can be an integral part of any user's comprehensive safety plan.



CRC Reflective Spray Paints are available in a 16 oz aerosol can, Aluminum Base Coat (part #18015), Yellow Top Coat (part #18016), Red Top Coat (part #18017) and Clear Top Coat (part #18018). Coatings must be applied over aluminum base coat for effectiveness.



CRC Reflective Mining Paints are available in a 20 oz aerosol can, Aluminum Base Coat (part #18020), Yellow Top Coat (part #18021), Red Top Coat (part #18022) and Clear Top Coat (part #18023). Coatings must be applied over aluminum base coat for effectiveness.



CRC Industries manufactures a complete line of industrial specialty chemicals including: cleaners, degreasers, lubricants, corrosion inhibitors and paints. The company markets its products through electrical and industrial distributors nationwide. CRC Industries is certified to ISO 9001:2008 standards.



CRC is committed to providing current and reliable information on our products and services and we want to make finding that information fast and easy. For information about our complete line of Electrical and Industrial Maintenance Chemicals, contact CRC Industries, 885 Louis Drive, Warminster, PA 18974. Phone (800) 272-4620 or visit our website: www.crcindustries.com/ei today to find Your Best Solution™!



Contact: Carol Krause

ckrause@crcindustries.com 

More from Cleaning Products & Equipment