Reflective Electro-Absorption Modulator has 60 GHz bandwidth.
Press Release Summary: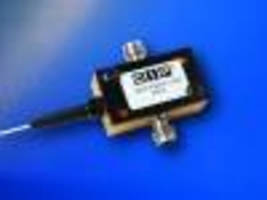 With insertion loss of only 3.6 dB, combined modulation and photodetection transducer 60G-R-EAM-1550 provides digital optical modulation at 50 GBps, RF modulation over 60 GHz bandwidth, and photodetection with 1.0 A/W responsivity and 43 GHz bandwidth. It operates across 1,550 Nm C-band with low chirp parameter and is designed for use with laser diode source. It is available in custom variants, standard package with RF connectors is suited for use with external RF components/drivers.
---
Original Press Release:

CIP Technologies Releases World's First 60 GHz Reflective Electro-Absorption Modulator



Ipswich, UK - CIP Technologies, a company with a long history of photonics innovation, has released a combined modulation and photodetection transducer capable of working at up to 60 GHz - a world first.

The new reflective electro-absorption modulator (R-EAM) meets customer needs for a low insertion loss, low drive voltage optical modulator in applications such as remote antennas and radio-over-fibre. The product is particularly significant for those interested in the 28 GHz LMDS (Local Multipoint Distribution Service) band, as well as experimental and research work in bands up to 60 GHz. The combination of modulation and photodetection in a single device means that both up and down links can be duplexed over a single fibre, leading to significant cost reductions and capacity improvements for network operators.

The device, 60G-R-EAM-1550, has an insertion loss of only 3.6 dB and provides digital optical modulation at 50 Gbit/s and RF modulation over its 60 GHz bandwidth. It operates across the 1550 nm C-band with a low chirp parameter, and is intended for use with a laser diode source. The photodetection capability is state of the art, providing 1.0 A/W responsivity and 43 GHz bandwidth.

The standard package with RF connectors is suitable for use with external RF components and drivers; customer-specified variants of the product can be provided on request. Please contact CIP for pricing and availability information: www.ciphotonics.com

About CIP Technologies

CIP Technologies is the trading name of The Centre for Integrated Photonics Ltd, a world-renowned developer of advanced photonic hybrid integrated circuits and InP-based opto-electronic chips, devices, arrays and modules for the communications, defense and renewable energy markets. With integrated state-of-the-art research, fabrication, coating, test, validation and production facilities, as well as strategic partnerships with volume packaging providers, CIP Technologies develops the photonic products of tomorrow. CIP Technologies uniquely broad range of competencies is based on world-renowned research, and includes III-V photonic materials, silicon micromachining, planar silica waveguides and network architecture design and analysis.

For more information visit www.ciphotonics.com

CIP Technologies

Phoenix House

Adastral Park

Martlesham Heath

Ipswich

IP5 3RE

UK

t +44 (0)1473 663210

f: +44 (0)1473 663295

info@ciphotonics.com

www.ciphotonics.com

More from Electronic Components & Devices