Reference Kit accelerates adoption of wireless charging.
Press Release Summary: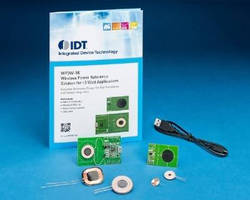 Comprised of transmitter (P9235A-R) and receiver (P9027LP-R), with 3 different coil size options, Qi-based Reference Kit helps integrate wireless charging into compact electronics requiring 0.5–3 W, such as smartwatches, headphones, fitness trackers, and portable medical devices. Support materials include user manuals, layout guides, layout instantiation modules, schematics, bill-of-materials, and Gerber files. Offering optimized thermal design, kit delivers peak 80% system efficiency at 3 W.
---
Original Press Release:

IDT Accelerates Adoption of Wireless Power in Ultra-Compact, Low-Power Applications



New High-Efficiency, Easy-to-Use Reference Kit Breaks Through the Barriers of Designing Wireless Charging into Smartwatches, Fitness Monitors and Other Wearables



SAN JOSE, Calif., -- Integrated Device Technology, Inc. (IDT) (NASDAQ: IDTI), today introduced a new wireless power reference kit that helps make integrating wireless charging into compact electronics easy and affordable. The new IDT® Qi-based transmitter and receiver reference kit targets designs requiring 3 W or less, such as smartwatches, headphones, health and fitness trackers and portable medical devices. Suited for applications ranging from 0.5 - 3 W, the reference kit is comprised of both a transmitter (P9235A-R) and receiver (P9027LP-R), with three different coil size options supporting various applications, form factors and power levels.



Building on the success of IDT's groundbreaking 5 W reference kits introduced last year, the comprehensive kit enables immediate prototyping, meaning engineers can incorporate wireless charging capabilities into their ultra-compact designs in a matter of hours.



"We recently announced that we had delivered over 70 million wireless power devices to date, indicating that wireless power has truly entered mass adoption phase," said Dave Shepard, vice president of IDT's Consumer Products Division. "We now anticipate large-scale wireless power adoption in segments such as smartwatches, fitness and health monitors. With the low-power kit, we want to follow the success of our easy-to-use 5 W kit, which opened the market to customers who don't have the expertise, budget or time to develop a custom solution."



The kit's associated layout module allows for direct instantiation on to a system board, while an optimized and fully tested BOM takes the guesswork out of component selection. In addition, an extensive digital library of collateral eliminates traditional design and support barriers regardless of application volume. Support materials include user manuals, layout guides, layout instantiation modules, schematics, bill-of-materials (BOM), Gerber files, and more.  Delivering peak 80 percent system efficiency at 3 W, the kit offers seamless integration with the drop-in reference layout provided, and an optimized thermal design.



"This new kit offers Digi-Key customers the opportunity to fast-track wireless charging integration into their compact electronic devices," said David Stein, vice president, Global Semiconductor at Digi-Key Electronics. "And just like the 5 W kit, next-day delivery helps engineers go from concept to prototype in fewer than 24 hours."



Pricing and Availability

The new wireless power kit containing the transmitter, receiver and additional coils is available now at a suggested retail price $70 and can be ordered directly from participating distribution partners. Free samples are available for approved customers.



For more information, visit the IDT website at http://www.idt.com/WP3W-RK or watch these videos:

--  Wireless Power Kit Overview

--  P9235A-R Receiver

--  P9027LP-R Transmitter



To buy or sample the kit, click here



About IDT

Integrated Device Technology, Inc. develops system-level solutions that optimize its customers' applications. IDT's market-leading products in RF, timing, wireless power transfer, serial switching, interfaces and sensing solutions are among the company's broad array of complete mixed-signal solutions for the communications, computing, consumer, automotive and industrial segments. Headquartered in San Jose, Calif., IDT has design, manufacturing, sales facilities and distribution partners throughout the world. IDT stock is traded on the NASDAQ Global Select Stock Market® under the symbol "IDTI." Additional information about IDT is accessible at www.IDT.com. Follow IDT on Facebook, LinkedIn, Twitter, YouTube and Google+.



IDT, 2016. IDT and the IDT logo are trademarks or registered trademarks of Integrated Device Technology, Inc. All other brands, product names and marks are or may be trademarks or registered trademarks used to identify products or services of their respective owners.



IDT Press Contact:

Dean Solov Public Relations Manager Phone: (408) 284-2608 E-mail: dean.solov@idt.com



Related