Reel Slabber helps prevent injuries from steel blades.
Press Release Summary: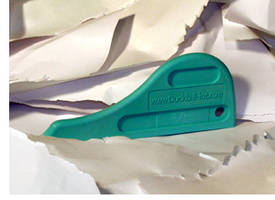 Duckbill paper, board, film, and foil reel slabber has contoured shoulder ergonomically designed to nest in palm of slabber's hand. Compound set of curves on leading edge and their engineered radius work to lift and separate plies of paper, film, or foil for straight, clean peel. With melting point of 480°F and specific density of 1.38, heat-resistant themoplastic and reinforced fiberglass material can be machined with sandpaper into web-specific, custom shape.
---
Original Press Release:
Stop Injuries from Steel Blades, Duckbill Reel Slabbers Preserve Profits and Personnel.
GRAND RAPIDS, Michigan - July 11th, 2005 - Duckbill is known for helping industrial craft-workers be more competitive and more productive with practical and commonsense ergonomics. There's no criteria that prohibits the combination of ergonomics, performance and safety in commonplace hand tools, or the way they're carried and stowed. The Duckbill paper, board, film and foil reel slabber is a perfect example of performance, safety and commonsense ergonomics in action. In a film, foil, paper, paperboard, boxboard or web printing environment steel bladed utility knives are routine but costly. Not only do they need frequent replacement and require supplemental sheaths, guards and gloves, more importantly they contribute to preventable accidents. And then to OSHA reportables. Plastic paper knives are sometimes considered an alternative. But the plastic is low grade and friction-induced heat build-up ruins the tools slabbing edge. Efficiency and productivity suffer. Plus, careless plastic users can inadvertently contaminate the process and compromise machine runnability. What plant needs that headache? So what's the answer? The Duckbill reel slabber is engineered for long and prolonged use. The contoured shoulder of the tool is ergonomically designed to nest in the palm of the slabbers hand. The design ergonomically optimizes slabbing power without compromising control. The compound set of curves on the leading edge and their engineered radius work to first lift, and then separate the plies of paper, film or foil for an easy, straight and clean peel. The design also puts an end to inadvertently stripping-off more plies than required to unwrap a new reel or clean up a damaged roll. Even the most experienced tender can't control the vertical slitting depth of a steel blade, or compensate for the under-performance of a melted plastic stripper. The proprietary Duckbill blend of heat resistant engineered themoplastic and reinforced fiberglass is so dense that the tool can be "machined" with sandpaper into a web-specific custom shape. And it's so rugged that it outlasts plastic strippers 5 to 1 on paperboard and boxboard webs, and 8 to 1 on lightweight paper, film and foil webs. The melting point is 480°F so plastic-free mills use it without worries over contamination. And the material has a specific density of 1.38 - assuring that it sinks if it ever enters the trasher/repulper. About Duckbill, Inc. Duckbill is a leader in bringing practical ergonomic health and safety solutions to commonplace industrial applications. The Duckbill paper stripper is one example, the Duckbill SPMM(TM) (Single Platform: Many Modules) system is another. These are task-specific, mostly upper-body, ergonomically-sound personal carrying solutions that can be equipped with an array of customized modules for carrying and positioning (or re-positioning) interchangeable hand tool, instrument and device modules. The Duckbill SPMM product is a professional grade, rugged and ergonomically sound tool carrying platform. It integrates AXIAlign(TM) Power Zone Design (PZD)(TM) principles to keep the user as erect as possible throughout the work day and reduce the number of bending, twisting, lifting and shearing events. Uninformed, casual or sloppy tool weight allocation leads to neck, shoulder, back, hip and knee pain or MSD's (Muscular Skeletal Disorders). The user positions (or repositions) the tools and instruments (weight) anywhere on the platform he chooses to carry and/or access them. In this way he allocates the load to match its use with his need and distributes it comfortably over an expanded portion of his or her (typically upper-body) muscular skeletal structure. Duckbill's unmatched capacity to rapidly translate the personal productivity requirements of industrial tool, device and instrument users/carriers and OEM's into innovative and interchangeable ergonomic solutions has led to its best-in-class SPMM strategies. Duckbill's proprietary AXIAlign(TM) Power Zone Design (PZD)(TM) principles and numerous holster/module inventions also make Duckbill an essential development partner and supplier seeking to advance the state of the art in personal productivity. For more information, for clarification, or, to speak directly with a knowledge resource at Duckbill, Inc, contact: Tom Wiersma The Verti-Mark Group, Inc Direct: (616) 456-9676 Fax: (616) 456-9135 Email twiersma@vertimark.com www.duckbill-inc.com
More from Electrical Equipment & Systems