Redundant Fieldbus System helps avoid process shutdown.
Press Release Summary: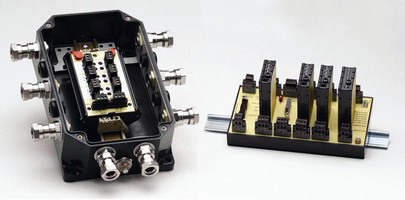 Providing redundancy and automatic switchover in case of segment fault, TRUNKSAFE(TM) fieldbus system helps prevent loss of segment and potential process failures. Unit consists of 2 redundant TPS200 fieldbus power conditioners, 2 fieldbus cables, and 1 TS200 fail-safe device coupler to handle 6 or 10 fieldbus devices. System also offers hard-wired alarm to alert plant operators about cable fault, while LEDs indicate exactly which cable and what type of fault has occurred.
---
Original Press Release:

Redundant Fieldbus System Switches Automatically to Backup Segment, Avoiding Process Shutdowns



MooreHawke's TRUNKSAFE(TM) is the only FOUNDATION fieldbus system that provides complete redundancy and automatic switchover in case of a segment fault

NORTH HILLS, CA-September 6, 2006-The TS Series TRUNKSAFE system from MooreHawke, a division of Moore Industries, provides a cost-effective, highly reliable method for maintaining continuous communication between a control system and instruments on a FOUNDATION fieldbus H1 segment. In the event of a failure on a fieldbus segment, TRUNKSAFE makes it possible for the control system to switch immediately and automatically to a redundant path. This helps prevent the loss of a complete segment, the shutdown of associated plant or equipment, and potential catastrophic process failures.

With other fieldbus products, the only way to build a redundant system is to duplicate the entire segment completely, including H1 interfaces, power supplies, device couplers, fieldbus instruments, wiring from instruments to the couplers, and the fieldbus cables. Unfortunately, control system vendors have no way to determine if a segment has failed. In most cases, a control system can detect the loss of power to an H1 interface, or it can detect when field devices become disconnected; but it cannot detect a segment failure beyond its H1 card. Therefore, conventional redundant fieldbus systems sometimes use complex software voting schemes that determine - by analyzing instrument signals (or the lack thereof) - that the segment has failed.

A TRUNKSAFE segment consists of two TPS200 Advanced Power Conditioners, a fieldbus cable from each power conditioner, and a TS200 Fault Tolerant Device Coupler, currently available for a maximum of either six or 10 field devices. The TRUNKSAFE Power Conditioners each feed the parallel, redundant "legs" of fieldbus cable, which meet at the TRUNKSAFE Device Coupler. When a cable failure in either leg occurs, the TRUNKSAFE system shuts off power to the failed leg, letting the redundant power conditioner keep power to the remaining healthy leg. The control system detects loss of power at the H1 card on the failed leg and automatically switches to its backup H1 card.

The TRUNKSAFE system also provides a hard-wired alarm to alert plant operators to the cable fault and LEDs indicate exactly which cable and what type of fault has occurred. When the failed segment has been repaired and normal cable integrity restored, the previously disconnected H1 card is automatically allowed access to the segment once more.

In other words, any segment configured with TRUNKSAFE automatically maintains normal operation and communications without any changes to the control system hardware or software. (See the attached backgrounder for more information on how the system works.)

An existing, non-redundant fieldbus segment can be upgraded to a redundant system simply by adding an extra H1 card, two TRUNKSAFE power conditioners, an extra fieldbus cable, and replacing the existing coupler with a TRUNKSAFE Device Coupler. In some cases, fieldbus segments on plant-critical applications are already equipped with duplicated H1 cards, power conditioners, and two cables; in this case, the system can be upgraded to fully automatic operation by installing TRUNKSAFE power conditioners and replacing the device coupler with a TRUNKSAFE Device Coupler.

Implementing a TRUNKSAFE system requires no hardware or software modifications to the control system. Each TRUNKSAFE segment is a conventional fieldbus configuration in all respects, except that it has two fieldbus cables. Switchover during a fault and reset afterward are fully automatic, requiring no action by maintenance or operations personnel.

For more information, contact Moore Industries-International, Inc., 16650 Schoenborn St., North Hills, CA 91343, U.S.A; Telephone: (818) 894-7111; FAX: (818) 891-2816; E-mail: info@miinet.com; Web Site: www.miinet.com