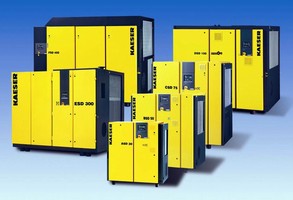 Direct Drive Compressors now available from 25 to 450 hp

Kaeser Compressors' direct drive series rotary screw compressors are now available from 25 to 450 hp. Available in flows from 72-2003 cfm and pressures to 217 psig, all of our units are designed for efficiency, reliability, and minimal maintenance.

Kaeser's state-of-the-art compressors feature our optimized Sigma Profile airend, patent-pending Sigma Control and the latest one-to-one direct drive technology. These are true direct drive compressors - with an oversized airend connected directly to the motor via a maintenance-free coupling for "zero-loss" transmission efficiency. Kaeser has developed a unique cooling air flow design that significantly reduces noise levels and provides superior cooling. Plus, all units are fitted with a re-designed, high-efficiency separator system for extremely low oil-carry over - perfect for all of your instrument and bulk air needs.

For more information, please call 800-777-7873 or visit us at http://www.kaeser.com/sigma.


More from Materials