Reduce the Risk of Eectrical Shock with CombiTac Connectors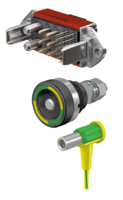 Modern critical surgery rooms are designed on a modular basis and fitted out specifically for the task at hand. With CombiTac, you can connect the mobile supply unit of medical diagnostic, monitoring, and treatment devices with a custom-configured module meeting your signal, data, power, air and fluid requirements all in a compact, space-saving design.
The use of equipotential grounding connectors (POAG) ensures that all surgery room equipment is on the same electrical potential and reduces the risk of electrical shock (to provide a safe environment for patients and medical professionals). Our connectors are designed for high-mating cycles and meet the highest safety requirements. We are your solutions provider for medical applications and our engineers are here to help you.
As one of the leading manufacturers of quick connector systems, Stäubli covers connection needs for all types of fluids, gases and electrical power. Our standard and specialized products, including single and multiple connectors, tool changers and quick mold change systems, combine performance, quality, safety, dependability and durability. Choose the original Stäubli.
Phone: +1 707 838 0530
Reliability in every detail