Reduce Maintenance Costs with Long Lasting Moyno Replacement Parts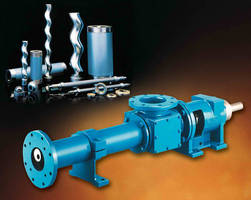 Springfield, Ohio - Genuine Moyno® replacement parts ensure that Moyno pumps continue to provide the original, high-quality performance and long service life that has been verified by customers for over 76 years to lower total cost of ownership. Moyno replacement parts precisely and consistently meet all product design parameters, quality standards and manufacturing tolerances. Moyno replacement parts install correctly the first time, ensure accurate form and fit to meet original product specifications and protect product warranties.

Quick delivery of genuine Moyno replacement parts is always a top priority. Moyno maintains the largest in-field inventory of progressing cavity replacement parts in North America to ensure availability and reduce process delays. The advanced Moyno NetlinkTM System electronically links Moyno's North American distributors via an intranet, giving the customer instant access to this multimillion dollar, in-field replacement parts inventory. This proprietary system utilizes new technology that provides distributors with the capability to source parts quickly, preventing out-of-stock situations to minimize downtime.

Genuine Moyno replacement parts are readily available, provide superior performance, ensure long service life and result in lower total cost of ownership.

Moyno, Inc., a unit of Robbins & Myers, Inc., is a leading manufacturer of Moyno® progressing cavity pumps, sludge pumps, metering pumps, sanitary pumps, mag-drive pumps, multiphase fluid transfer systems and grinders. Its worldwide multi-million dollar stocking distribution network serves a wide range of industries, including water and wastewater treatment, oil and gas, pulp and paper, specialty chemicals, pharmaceuticals, food and beverage, biofuels, mining, and petrochemical.

Reader service inquiries should be forwarded to TDH Marketing, Inc., 8153 Garnet Drive, Dayton, Ohio, 45458. Phone: 937-438-3434. Fax: 937-438-3453. E-mail: literature@tdh-marketing.com.


More from Materials